Study highlights gibbon trade in Indonesia
Kuala Lumpur, Malaysia, 7th December 2009—A study focussing on the trade in gibbons, recently published in the journal Endangered Species Research, highlights the ongoing illegal trade in these threatened species in western Indonesia.
---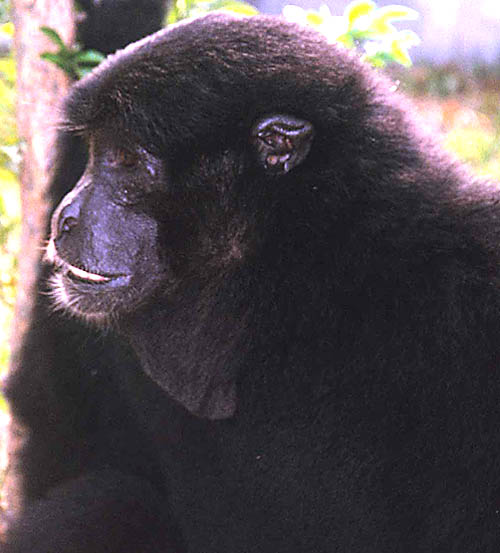 The research, conducted by investigators based in England and Malaysia, collected data from 22 zoos and nine wildlife rescue centres and found some 600 gibbons present in these facilities.  The most common species kept as pets was the Siamang, from the Indonesian island of Sumatra, with close to 200 individuals observed. Only six Kloss' Gibbons from the Mentawai Islands were observed. 
Almost two-third of the gibbons in these rescue centres and zoos arrived there as the result of confiscations by the Indonesian authorities, the study found. Others were once-loved pets who ended up in the rescue and rehabilitation centres when abandoned by private owners who grew weary of them.
While keeping primates in many parts of the world seems to be a thing of the past it is still common to see them kept as pets in Indonesia.  They are traded daily in Indonesia's many animal markets which are found in most large towns.  A significant part of this trade comprises legally protected species including some of the most endangered primates in the world.  
However, few people appeared to be have been prosecuted for keeping gibbons as pets or for trading them, the study said.
Gibbons, along with chimpanzees, gorillas and orang-utans, are humans' closest relatives. Some thirteen species occur in the forests of South-East Asia and most are threatened with extinction largely as a result of habitat loss and hunting. Indonesia is home to seven species of gibbon, three of which are found nowhere else in the world.
All Indonesian species of gibbon face a high risk of extinction in the wild and are considered Endangered by the International Union for Conservation of Nature. Gibbons have been legally protected in Indonesia since 1925 and fines and subsequent imprisonment can be imposed on law breakers. Furthermore, all gibbons are included in Appendix I of the Convention in International Trade in Endangered Species of Wild Fauna and Flora (CITES), prohibiting all international commercial trade in the species.
When gibbons are confiscated by the Indonesian authorities or when private owners no longer are willing to take care of them they often end up in wildlife rescue centres. Abandoned pets also often end up in local zoos.
"Strong prosecutions are essential to deter this illegal trade" said Chris R Shepherd, Acting Regional Director of TRAFFIC Southeast Asia and an author of the report. 
"The message needs to be clear – illegal trade in gibbons, and other protected wildlife – will not be tolerated by the Indonesian authorities".
"The paper is part of a larger monitoring project," as author Vincent Nijman, explains: "Wildlife trade, be it domestic or international, may pose a significant threat to the conservation of many species. 
"It is important to ensure trade is carried out in a legal and sustainable manner and only through monitoring of the trade can we alert the relevant regulatory bodies if it exceeds agreed levels or if the trade is being carried out illegally." 
The authors conclude that trade in gibbons in Indonesia is significant, affecting their status, and that this is partially due to lax interpretation and enforcement of wildlife protection laws. They go on to state that the law-enforcement hierarchy needs to be targeted to persuade officials to convict traders, owners and others involved in the illegal trade, and attention needs to be given to providing incentives for law enforcers to carry out their duties with greater efficiency. 
Illegal wildlife trade must be considered a high priority if the current levels of illegal trade and resulting negative impact on the conservation of Indonesia's wildlife is to be addressed.
The paper by Vincent Nijman, Cho-fui Yang Martinez and Chris R. Shepherd "Saved from trade: Donated and confiscated gibbons in zoos and rescue centres in Indonesia" is published in a Special Theme Issue "Primate Conservation: Measuring and Mitigating Trade in Primates" of the journal Endangered Species Research. It is freely available online at 
http://www.int-res.com/articles/esr2009/theme/primate/pricpp4.pdf (PDF, 120 KB). 
---