Rhino horn demand reduction project comes to a close, looks to the future
Hanoi, Viet Nam, 2 March 2018—Representatives of TRAFFIC, WWF, and the French Development Agency (AfD) held a workshop in Hanoi today to reflect on the achievements of their three-year project to curb demand for rhino horn in Viet Nam, and to discuss how the initiative will continue into the future. The event included around 40 representatives from government, civil society organisations (CSOs), and other parties who contributed to the initiative's success.
---
The project, titled "Protecting Rhinos by Engaging Civil Society and the Private Sector to Reduce Consumption for Rhino Horn in Viet Nam" encouraged civil societies to foster a zero-tolerance approach to illegal wildlife trade. Groups such as the Viet Nam Chamber of Commerce and Industry (VCCI), the Viet Nam E-commerce Association (VECOM), and the Viet Nam Automobile Transportation Association (VATA) participated in training workshops to discuss how the adoption of anti-trafficking policies into their corporate social responsibility (CSR) activities helps combat illegal wildlife trade and showcases their businesses as socially responsible entities, thereby boosting their reputations. As a result of the participation of these organisations, more than 20,000 businesspeople have been trained on the merits of adopting anti-trafficking CSR activities, including more than 5,000 women.
The workshop featured panel discussions with business leaders who discussed how adopting CSR policies that promoted conservation benefitted the business community. Members of CSOs explained the importance of social mobilisation in effectively combatting wildlife crime. 
Vietnamese businesses and civil society organisations are emerging as leaders in the fight against the country's illegal wildlife trade
Sarah Ferguson, head of TRAFFIC's Viet Nam office
"Their efforts are encouraging others to face trafficking head on, contributing not only to a better future for their businesses, but also for endangered species. We should join hands and work together to protect wildlife and the environment. TRAFFIC is pleased to be part of these conservation activities."
Over the project's three-year lifecycle, 600 workshop participants signed a pledge to fight illegal wildlife consumption and 32 businesses adopted a zero-tolerance stance on wildlife crime.  Business leaders such as Ha Thu Thanh, chairwoman and CEO of Deloitte Vietnam, and Luu Hai Minh, chairman of Nhat Hai New Technology Joint Stock Company, participated in the project, which also featured high-profile presentations by TRAFFIC for the APEC Startups Forum and World Rhino Day.
VCCI participated actively in the initiative, both by co-hosting workshops on integrated CSR policies and by fostering a master trainer network, wherein 40 selected consultants pass on information from the workshops to the larger business community, ensuring the message is disseminated throughout the organisation and beyond. VCCI has pledged to continue supporting the goals of the initiative by maintaining its master trainer network and by promoting anti-trafficking CSR activities. 
"A zero-tolerance policy towards illegal wildlife trade is important not only to reduce the consumption of wildlife, but also to ensure that businesses are not unwittingly participating in a crime. We have strived to raise awareness and educate entrepreneurs on how adopting these policies not only reduces their risk in this sense, but also benefits their businesses. Customers respond to businesses that act responsibly," said Le Thi Thu Thuy, vice director of the Centre for SME Promotion at VCCI.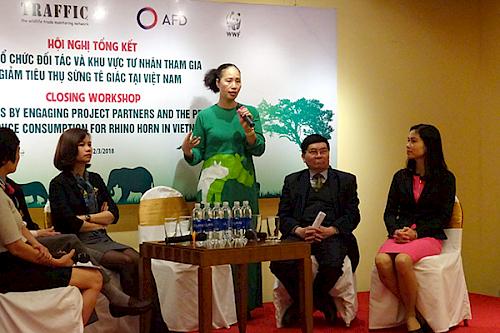 VECOM's support of the project was particularly important as illegal wildlife trade is increasingly moving online. The e-commerce association participated by hosting workshops that engaged both e-commerce and logistics companies in the fight against rhino horn consumption and trade. Likewise, VATA took the lead in the transportation sector, holding workshops both in Hanoi and Hai Phong and featuring anti-trafficking messages on its vehicles and stations.  
The Centre for Women and Development (CWD) joined the effort by encouraging women to take on a greater role in reducing consumption of rhino horn and other wildlife products. As part of the project, CWD held a cooking competition with a focus on sourcing sustainable ingredients for cooking both over the Tet holiday season and throughout the year.
Over the recent years, Viet Nam has emerged as a hotspot for rhino horn consumption as well as a transit hub for horn en route to China. To meet Asian demand, the poaching of African rhinos has increased exponentially over the past 10 years. In South Africa, home to most of the world's rhinos, 13 rhinos were poached in 2007 compared with 1,028 in 2017, an increase of more than 7,800%. As many of these horns are headed to Vietnamese markets, reducing consumption within the country is essential to the survival of African rhinos.
---