Pangolins live on the web
Cambridge, 17th September 2012—IUCN's recently formed Pangolin Specialist Group has launched a new website devoted to pangolin conservation and research. 
---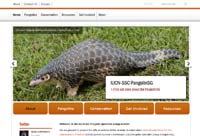 Pangolins, insect-eating mammals, are found in Asia and Africa and are threatened by habitat loss and illegal trade for their meat and unique scales, used in traditional medicine. 
All eight pangolin species are protected under national and international laws, and two are listed as Endangered on the IUCN Red List of Threatened Species.
1,220 pangolins were confiscated during one recent INTERPOL operation, including one shipment containing 5 tonnes of frozen pangolins.
"Although tens of thousands of illegally traded pangolins are seized each year, some of the biggest problems facing conservationists is a lack of data about this illegal trade, its routes, its sources, and even about the animals themselves," said pangolin researcher Dan Challender, co-Chair of the new Specialist Group. 
The Pangolin Specialist Group's website, www.PangolinSG.org, will serve as an authoritative resource on pangolins, providing conservationists and the public with current information about the animals' natural history, research projects, and strategies to combat the threats that put pangolins at risk.
It was unveiled last week at the IUCN World Conservation Congress in Jeju, Korea.
The Pangolin Specialist Group comprises scientists, veterinarians, and conservation professionals. The 65 members aim to curb the loss and decline of wild pangolin populations by identifying and promoting strategic conservation solutions and informing effective domestic and international governmental action.
The Group is part of IUCN's Species Survival Commission (SSC), a global network of volunteer experts working to conserve biodiversity. More than 120 Specialist Groups are currently active within the SSC.
---