Illegal logging issues faced head on in Jeju
Jeju, South Korea, September 2012—the timber trade and the growing demand for more transparent supply chains came under the spotlight at a workshop led by TRAFFIC and Reforestamos México at the IUCN World Conservation Congress last week.
---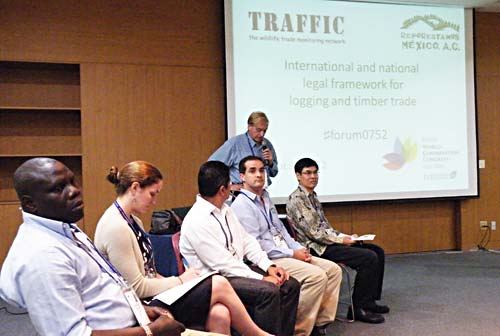 The workshop on International and national legal frameworks for logging and timber trade: In support of forest ecosystem resilience and legal prohibition of illegal timber in trade featured expert speakers on forestry and legality from America, Meso-America, Africa and Asia, and was moderated by Charles (Chip) Barber, Forest Division Chief of the U.S. State Department. 
Chen Hin Keong, TRAFFIC's Global Forest Trade Programme Leader, highlighted several international initiatives to develop tools for improving legality and transparency in the trade of forest products and also explained the three possible sources of change: supply-side changes, behavioural changes of producers and demand-side changes. 
Some producer countries have revised their forest policies, including strengthening forestry legislation, increasing timber trade controls, implementing log export bans, using value-added in-country processing and engaging in capacity building and institutional strengthening. Behavioural changes of producers and industry have included more prominence to certification for legality and sustainability, codes of practice and independent auditing, while demand based approaches have targeted the implementation of public purchasing policies for legal and sustainably sourced timber products by governments. 
Some governments have taken further action by legislating against the trade in illegally harvested timber, including the U.S. Lacey Act 2008 amendments, the EU bilateral Voluntary Partnership Agreement (VPA) and the EU Timber Regulation.
Chen also shared the TRAFFIC/GFTN developed Legality Verification Tool, designed to help industry, governments and civil society understand the legality requirements and be familiar with the documentation and permits required at all levels of the timber supply chain. 
Ernesto Herrera, Executive Director of Reforestamos México, shared his organisation's efforts to ensure the legality of forestry and timber trade in Mexico, using the TRAFFIC/GFTN framework as a guide. 
Gustavo Sanchez of the forest community network Red Mexicana de Organizaciones Campesinas Forestales (Red MOCAF) spoke about the challenges faced by local communities and indigenous peoples in Mexico to comply with the legislation in the forestry sector. The complicated procedure to obtain approval of management plans has created disincentives to be legal. Sanchez proposed a number of recommendations that would help local communities and indigenous peoples use their forest resources legally and sustainably. 
Wale Adeleke from IUCN Ghana shared his experience on African countries' engagement on legality issues. There are a number of challenges faced by forestry institutions in Africa, especially to enhance the legality procedures and verification system, including capacity building, institutional readiness, using technology to reduce illegality, etc. 
Megan Dickie presented on behalf of the Forest Legality Alliance, whose approach is to help companies and communities understand the U.S. Lacey Act and to provide resources to help them become compliant. 
Ensuing discussions were lively, and brought up additional challenges faced in the forestry sector such as corruption and collusion. 
Those attending agreed governments should change policy and laws on trade and enhance enforcement, while industries need to engage in greater corporate social responsibility to ensure legality. Finally, civil society must also create awareness amongst all stakeholders, including the consumers who ultimately buy the products. 
"If consumers demand legal timber, this will send a clear message to the producers, suppliers and retailers that careful scrutiny of timber sources pays more in the end," said Chen.
---
Notes:
Precious Woods background paper 1. Review commissioned from TRAFFIC for a Chatham House Workshop on Tackling the Trade in Illegal Precious Woods held on 23-24 April 2012
---