New FairWild certification project brings sustainable and ethical baobab to the market
Zimbabwe, August 2017—One of FairWild's newest certification scheme entrants, B'Ayoba, is a natural ingredients company that supplies Baobab Adansonia digitata products, ethically and sustainably wild harvested in partnership with rural producer communities around Zimbabwe.
---
TRAFFIC is a partner to the FairWild Foundation and was among those who helped develop the FairWild Standard to ensure those collecting wild plant ingredients harvest the produce sustainably and receive a premium price for their efforts. B'Ayoba was established in 2012, and has a management team with extensive experience in sustainable sourcing, working with local communities and bringing innovative products to market.

The Baobab tree is known in Africa as "The Tree of Life" as every part of it, from the roots to the leaves, has myriad traditional applications. It is an iconic species, with a trunk that can span 25 meters, and bat-pollinated white flowers that develop into hard-shelled fruits, containing seeds coated with a white powder.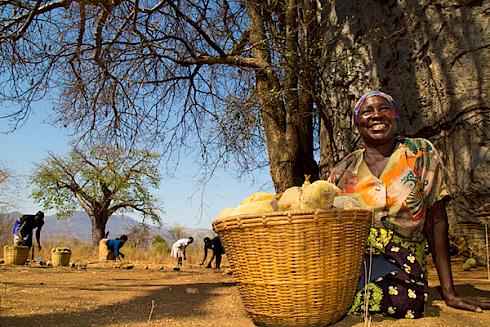 Until recently, Baobab was relatively unknown in Europe as a food ingredient but the past few years have seen it hugely increase in popularity.
PhytoTrade Africa – Southern Africa's natural products trade association, which aims to alleviate poverty and protect biodiversity in the region by developing a market for indigenous plants – successfully gained EU Novel Foods approval for Baobab powder in 2008. It has since been incorporated into a wide range of products – from snack bars to smoothies – and has a unique, subtly sweet taste.

With a high nutrient density, including antioxidants, potassium and vitamin C, Baobab powder is becoming prized as a "superfood". The seeds are also cold pressed to produce an oil which is used in cosmetic applications. More information about the properties of Baobab can be found on Phytotrade Africa's website.

In Zimbabwe, the Baobab tree grows in very dry areas, with rainfall of as little as 500 mm a year. The trees are important both as a local food source, and also as a cash crop. The trees fruit in the middle of the dry season, when there is little else growing and few other income opportunities for local communities – some of the poorest and most marginalized in the country. Zimbabwe itself is among the poorest countries in the world. B'Ayoba are working with over 2,000 registered collectors and their family members, and also employ people within their processing centres.

Under the FairWild certification scheme, B'Ayoba will work to implement a resource management framework to ensure sustainable harvest levels, and establish fair trade partnerships with the communities. FairWild requirements include supporting the set-up of a collector's association, payment of fair prices to the harvesters, delivering training and working with them to identify priorities for use of the FairWild Premium Fund, which B'Ayoba's buyers will contribute to.

B'Ayoba successfully achieved Year 1 of FairWild certification in 2016, initially focused on the Manicaland collection areas. The FairWild certification process requires ongoing assessment of the level of income and working conditions as well as of wild collection management practices – ensuring that the harvest stays within sustainable limits, leaving sufficient seeds for local needs, and for regeneration of the tree.
We hope the industry sourcing Baobab products will get behind the FairWild scheme and support our efforts to manage the resources sustainably, and pay a fair price to the harvesters
Gus Le Breton, Managing Director of B'Ayoba"We are sourcing from regions of high poverty, and see a lot of ways in which the FairWild Premium can benefit the community. The FairWild certification framework gives our trading partners a way to meaningfully contribute to creating sustainable livelihood opportunities in a fragile and impoverished region of Zimbabwe."

Conservation concern over the increasing market demand for Baobab has also led to recent news stories. The species harvested by B'Ayoba, Adansonia digitata, is widespread in mainland Africa and not thought to be under threat, although populations can be depleted locally if harvest is not well managed. However, the situation is quite different for a number of species in the genus that are endemic to Madagascar. These have much smaller distributions, and in some cases, dwindling populations. Concerns over the status and threats to A. grandidieri led to the species being listed in CITES Appendix II in 2016, requiring a "non-detriment findings" decision to be made before any trade is allowed.

B'Ayoba's FairWild-certified Baobab products provide an option for assured sustainably sourced ingredients, and way for industry and consumers to make a positive contribution to the livelihoods of wild harvesters. The baobab products (powder and oil) are also certified to EU and NOP organic standards. B'Ayoba's EU distribution partner is the Organic Herb Trading Company, a FairWild-registered Trader.
---
Notes:
To find out more about B'Ayoba's journey, visit their website www.bayoba.biz, and contact their representative Francisca Patsika, Enable JavaScript to view protected content.
---
About FairWild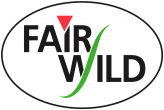 The increasing demand for wild plants—as ingredients for food, cosmetics, well-being and medicinal products—poses major ecological and social challenges. The pressure on potentially vulnerable plant species can endanger local ecosystems and the livelihoods of collectors, who often belong to the poorest social groups in the countries of origin.
As a response to these concerns, the FairWild Foundation is working with partners worldwide to improve the conservation, management and sustainable use of wild plants in trade, as well as the livelihoods of rural harvesters involved in wild collection. TRAFFIC has supported the development of the FairWild Standard, and now hosts the organization's Secretariat under a partnership agreement.