New industry standard for collection of wild plants
Nuremberg, Germany, 16 February 2007—A new standard to promote the sustainable management and trade in wild medicinal and aromatic plants (MAP) was launched today at Biofach, the World Organic Trade Fair.
---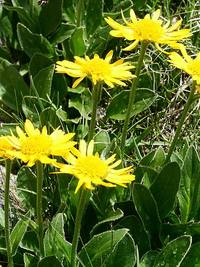 The International Standard for Sustainable Wild Collection of Medicinal and Aromatic Plants (ISSC-MAP) was drawn up following extensive consultation with plant experts and the herbal products industry worldwide. It promotes appropriate management of wild plant populations to ensure plants used in medicine and cosmetics are not over-exploited. The Standard is based on six principles: maintaining wild MAP resources, preventing negative environmental impacts, legal compliance, respecting customary rights, applying responsible management practices, and applying responsible business practices.
"Traders and companies, collectors and consumers must share the responsibility for maintaining populations of medicinal plants which are valuable natural resources," said Susanne Honnef of TRAFFIC. "The ISSC-MAP principles and criteria show how this can be achieved in practice."
More than 400,000 tonnes of medicinal and aromatic plants are traded annually, with around 80% of the species harvested from the wild. Almost 70,000 species are involved, many of them are in danger of over-exploitation and even extinction through over-collection and habitat loss. For example, in India, almost 300 medicinal plants are considered threatened by IUCN-the World Conservation Union.
Traditional Medicinals, one of the industry's leading companies, is investigating applying the new standard to the collection of Bearberry, a shrub whose leaves are used for the treatment of a variety of conditions, mainly of the diuretic and urinary tract.
"Our German supplier was able to prove the sustainability of their Bearberry sources, and we are keen to see how the newly developed ISSC-MAP criteria apply to this trade. Sustainable supplies will mean long-term benefits for the local people who rely on the Bearberry trade for supplementary income," said Josef Brinckman, Vice-President of Traditional Medicinals.
"I welcome the launch of this new standard, which presents an important step in ensuring the sustainable use of natural pharmaceutical products," said Professor Drenckhahn, President of WWF-Germany. "We'd like to see other companies use the standard and see how it works in practice for their benefit."
Organisations and experts involved in the ISSC-MAP consultation included: the German Federal Agency for Nature Conservation (BfN), the IUCN SSC Medicinal Plant Specialist Group (MPSG), WWF-Germany, and TRAFFIC, plus industry associations, companies, certifiers and community-based NGOs.
Saving Plants that Save Lives and Livelihoods: International Standard for Sustainable Wild Collection of Medicinal and Aromatic Plants (ISSC-MAP)
---