New cure for rhino poaching
Viet Nam, 7th December 2015—The next generation of Vietnamese traditional medicine (TM) practitioners is forging a new tradition of protecting endangered animals and plants. Scientists, professors and over 600 of Viet Nam's top TM students pledged never to use endangered wildlife in their practice after learning about the role TM can play in wildlife conservation.
---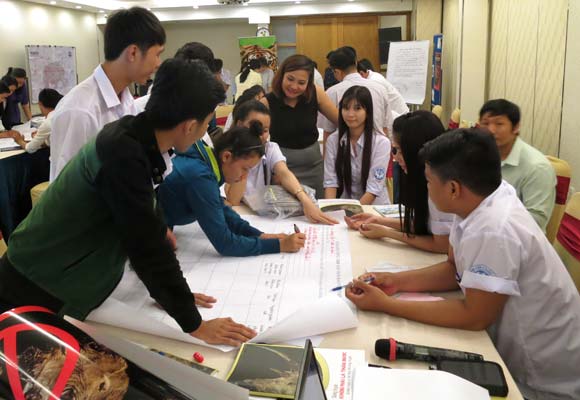 Their actions were spurred by workshops organized by TRAFFIC and the National Center for Health Communication and Education of the Ministry of Health (T5G) to highlight the importance of protecting wildlife. The workshops, held at some of the most prestigious TM universities in Hanoi and Ho Chi Minh City, empowered the students and university staff to create sustainable and wildlife-friendly practices, as well as to influence others to adopt a zero-tolerance towards endangered wildlife consumption. 
 "Traditional medicine has always been about creating harmony in people's minds and bodies and between humans and nature. By not prescribing endangered species products such as rhino horn, which comes from wildlife protected by law, TM can achieve this," said Dr. Hoang Bao Chau, a TM expert who spoke at the workshop. "There are many alternatives to ingredients from endangered species that provide benefit to your mind and body without causing irreversible harm to our planet."
Demand for wildlife products in countries practicing TM, such as Viet Nam, has already wiped out populations of rare animals. As recently as 2011, the Vietnamese subspecies of Javan Rhino was declared extinct, and other rhino populations around the world are facing increasing pressure from poaching for their horns. In South Africa, 1,215 rhinos were poached in 2014 alone, equivalent to more than three per day. Pangolins in Africa and Asia and Asiatic Black Bears, especially in Viet Nam and surrounding countries, are also suffering as they are poached for use as medicine or for conspicuous consumption. 
This poaching continues despite Vietnamese laws prohibiting the hunting, killing, transporting, smuggling, raising and keeping of these endangered species (Decree 160/2013/ND-CP). To support the ethical and responsible practice of TM, the TRAFFIC and T5G workshops showed practitioners how these Vietnamese environmental protection laws apply to their work. The workshops also trained participants in social marketing to allow them to spread the lessons of the workshop through the TM community effectively. 
"TM universities were created to preserve and advance Vietnamese TM by training students to practice effectively, ethically and safely. The leadership shown by these universities in endangered wildlife protection is a crucial part of this mission, ensuring not only that the students are never putting themselves or their patients at risk, but also that they are not pushing rare species closer to extinction. Practicing TM responsibly by not using endangered wildlife will secure the future of TM, and help reduce demand for rhinos in Viet Nam," said Madelon Willemsen, Head of TRAFFIC's Viet Nam Office. 
The students and professors present at the workshops will amplify the power of the TM community by participating in and facilitating additional activities such as distributing brochures and a Q&A Guidebook, hanging banners, and hosting workshops at 11 TM universities to share what they learned with their fellow students.
"Many of us decided to study medicine as a way to help people and make the world a better place. I didn't realize until today just how much we can contribute to wildlife conservation in our careers. It's exciting to know we can make such a positive difference not only in our community, but in the world," said Le Thi Linh, a student at Vietnam Military Medical University.
---