Malaysia's traditional Chinese medicine practitioners support use of alternatives to threatened wildlife
Kuala Lumpur, Malaysia, 9th July 2017–Malaysia's traditional Chinese medicine (TCM) practitioners and TRAFFIC, the wildlife trade monitoring network, have come together to find solutions to reduce the use of threatened wildlife in traditional medicines.
---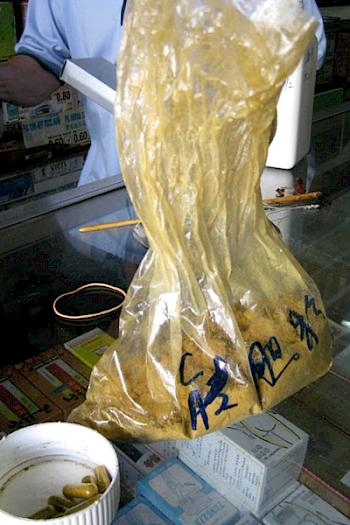 Through a joint one-day conference, the Federation of Chinese Physicians and Medicine Dealers Associations of Malaysia (FCPMDAM) and TRAFFIC highlighted substitutes to wildlife parts used in traditional medicine, discussed laws and enforcement aspects that govern wildlife use and the threats posed by the demand for wildlife-based medicines.
A major focus of the Alternatively Effective conference was the ongoing use of bear bile and gall bladder in the country's TCM industry and the threat this posed to Asia's wild bears.
Previous TRAFFIC surveys have shown the high availability of bear bile and gall bladder in the country's TCM shops. Analysis of bear-related seizures across Asia from 2000–2011 also found the country to be a key source and consumer of bear parts and derivatives.  
The TCM community of practitioners and users in Malaysia can be one of the strongest allies to ending illegal wildlife trade, and we are very glad to be partnering with Malaysia's largest TCM community. The good news is that effective substitutes for bear-based products are available and being used worldwide and it's important for the Malaysian community to know of these alternatives and work towards incorporating them into practice
Kanitha Krishnasamy, Acting Regional Director for TRAFFIC in Southeast Asia
As part of the conference, practitioners were also invited to make a pledge to use only wildlife permitted under Malaysia's laws, use only legally-sourced ingredients and support efforts to reduce the demand for wildlife-based medicinal products involving threatened species. A total of 46 practitioners signed the pledge on the day.
"This community of practitioners and physicians plays such a critical role in the sourcing and dispensing of wild plants and animals for medicines. A commitment to use only legal wildlife resources and educate their customers about sustainable alternatives will help reduce the tremendous pressure on bears and many other wild animals now in demand as cures,'' said Lalita Gomez, Programme Officer for TRAFFIC in Southeast Asia.
Federation President Mr Ting Ka Hua, who signed the pledge said:
 "It is the responsibility of each of us to cherish and protect wild resources. Chinese medicine practitioners and retailers should choose the legitimately produced medicines, pay attention to the contents of the products, do not buy medicinal ingredients of unknown provenance, and consciously resist illegal items.
"Chinese medicine practitioners have the obligation to correct unfounded and inaccurate concepts of the use of wildlife in traditional medicine.
 "Under the leadership of the Federation, we will drive support for the effort to end the use of illegal and endangered wildlife products in traditional medicine, within the Malaysian Chinese Traditional Medicine community, while maintaining the highest, safest and most reliable services."
Over the past year, FCPMDAM has distributed information prepared by TRAFFIC on wildlife species threatened by demand for traditional medicine, to its member associations.
About 80 practitioners, physicians, TCM lecturers and government officials attended the conference that also saw presentations from Dr Yibin Feng, Associate Director at the University of Hong Kong's School of Chinese Medicine; Salman Saaban, Enforcement Director of Peninsular Malaysia's Department of Wildlife and National Parks and Gloria Ganang, Environmental Education Executive at the Bornean Sun Bear Conservation Centre.
Funding for the Alternatively Effective - A Conference on Substitutes to Bear Bile in Traditional Chinese Medicine meeting was kindly provided by Hauser Bears.
---