"About" 7.2 tonnes of ivory seized in Hong Kong
Hong Kong, 6th July 2017—Customs officers in Hong Kong seized "about" 7.2 tonnes of ivory from a shipping container arriving from Malaysia at the Kwai Chung Customhouse Cargo Examination Compound on Tuesday, 4th July.
---
Once the weight is confirmed, the haul could become a record seizure - the largest ever recorded in the Elephant Trade Information System (ETIS) database - narrowly surpassing the 7.138 tonnes seized in Singapore in 2002.
ETIS is managed by TRAFFIC on behalf of Parties to the Convention on International Trade in Endangered Species of Wild Fauna and Flora (CITES). It contains tens of thousands of elephant-product seizure records dating back to 1989.
According to a government media release, the consignment was declared as "frozen fish" and the tusks hidden beneath frozen fish cartons.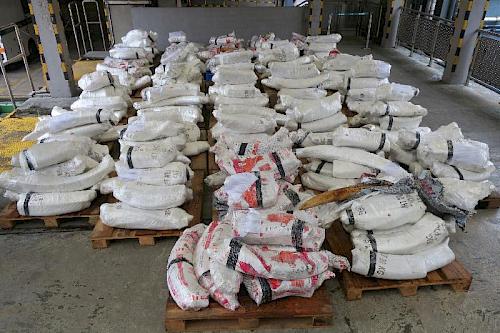 Although full details of the shipment are awaited, the massive seizure underlines both Malaysia's and Hong Kong's role as key smuggling hubs in the international trafficking of ivory.
Importantly, three people – a man and two women were arrested in connection with the seizure.
"Hong Kong Customs are to be warmly congratulated on this important seizure, but it is vital for a full and thorough investigation to take place in the aftermath to find out who was orchestrating this massive movement of contraband," said Dr. Yannick Kuehl, TRAFFIC's Regional Director for East Asia.
"No doubt Hong Kong's geographic location coupled with the currently relatively lenient penalties in place for anyone convicted of wildlife crime are reasons behind the shipment coming through the port—the case for increasing penalties has never been stronger."
Hong Kong is currently reviewing its legislation regarding wildlife crime and the Legislative Council is currently debating plans to phase out the Territory's domestic ivory trade over the next five years—a timescale that is out of step with neighbouring mainland China which intends to end its domestic ivory trade by the end of 2017.
Under CITES guidelines, any seizure of 500 kg or more is considered indicative of the involvement of organized crime. All Parties making such large-scale seizures are obliged to examine them forensically as part of the follow-up investigations.
---