18 rhino horns seized by Malaysian Customs
Kuala Lumpur, Malaysia, 10th April 2017—Malaysia has seized 18 rhino horns, bringing Asia's total to six seizures within one short month and underlining illegal trade's continued onslaught on rhinos.
---
Royal Malaysian Customs confiscated the shipment weighing 51.45 kg that had arrived at Kuala Lumpur International Airport (KLIA) on 7th April, on a flight from Mozambique and transited in Doha.
 
Acting on intelligence, Customs officers conducted a search at the airport's Free Trade Zone's cargo warehouse and found the horns in a small crate within a cardboard carton that was falsely declared as obra de arte or artwork.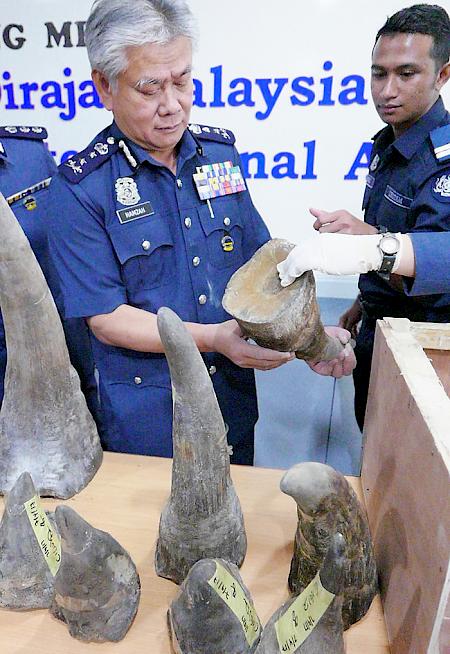 The shipment transported on a Qatar Airways flight had Malaysia listed as the final destination, KLIA Customs Director Dato' Hamzah Sundang told a press conference today. The airway bill however, listed a fictitious address in the town of Nilai, some 16 km away from the KLIA.  No arrests have been made and investigations are ongoing. 
 
It marks the 6th seizure of its kind in the region within the last month.The case is a violation under at least two laws in the country—the International Trade in Endangered Species Act (2008), which is the country' implementing legislation under the Convention on International Trade in Endangered Wild Fauna and Flora (CITES). Fines for violating this Act carries a maximum penalty of MYR1 million (USD225,500) or a jail term of up to seven years, or both. Fines may be doubled if the violation involved a business entity.
Rhino horn trafficking is also a violation of Malaysia's Customs Act (Prohibition of Imports) 2012. Anyone found guilty is liable to minimum fine of 10 times or a maximum of 20 times the value of the prohibited goods, or a jail term of three years, or both. 

Malaysia's 18-horn haul marks the sixth reported rhino horn bust in the region since 8th March, with a combined minimum of 103 rhino/horn pieces, weighing at least 235 kg confiscated. The five other seizures in the region took place in Hong Kong, Thailand and Viet Nam; two of Hong Kong's three seizures originated from Mozambique, and in both these cases, two men were arrested.  
 
"Traffickers are varying their routes to avoid detection and this case clearly points to the need for vigilance throughout Southeast Asia,'' said Kanitha Krishnasamy, Senior Programme Manager for TRAFFIC in Southeast Asia.

"We will conduct DNA sampling on the seized horns to learn more about the dynamics of the trade," said Abdul Kadir Abu Hashim, Director-General for Peninsular Malaysia's Department of Wildlife and National Parks (Perhilitan).  "We hope to also be able to reach out to RhODIS, the Veterinary Genetics Testing Lab in South Africa, to determine provenance of the horns and hopefully, Malaysia's effort will feed into a larger movement on cracking down this trafficking menace," said Abdul Kadir. 

Malaysia does not possess a domestic market for rhino horn sale or consumption, however, it has previously been implicated in the trafficking of rhino horns from Africa to Asia. TRAFFIC's analysis of ivory seizures from 2003–2014 showed that at least 23 rhino horns were mixed in three of the 66 shipments of elephant ivory that implicated Malaysia as part of their trade chain. The three shipments that contained rhino horns were seized in Uganda (15 horns), Kenya (five horns), and Thailand (three horns): the first two of these listed Malaysia as the import destination.
 
"Seizures are an indispensable step when banned goods have already entered a trade chain and TRAFFIC commends the Malaysian authorities from stopping criminals from profiting from rhino horn trafficking. These recent seizures across Southeast Asia point to a 'busy' trafficking period and we hope that law enforcement agencies in the region collaborate to fight this crime in an effective and united manner," said Krishnasamy.
---