Malaysia ends Year of the Tiger with conviction
A Malaysian court has jailed a local man for a decade, notching a win for the law and underlining the continued threat to wild tigers as the Year of the Tiger draws to a close.
---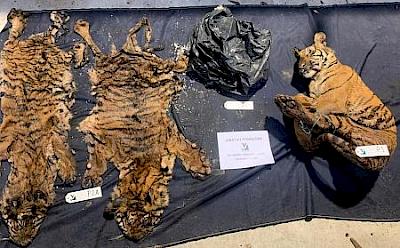 UPDATE: In August 2023, following an appeal, the Temerloh High Court reduced Burhanuddin Kamil Adenan's sentence to 1 year in jail for each of the three charges he was convicted on, and ordered that the terms be served concurrently. His fines were also reduced to MYR350,000, which if not paid, results in an additional 6 months in jail for each of the charges.
Last November, investigations by the Department of Wildlife and National Parks Peninsular Malaysia (PERHILITAN) led to the arrest of a 32-year-old Malaysian man, caught with a dead juvenile tiger and the whole skins of two other tiger individuals.
The arrest was made by PERHILITAN at a house in Temerloh district on the east coast of Peninsular Malaysia, located near Peninsular Malaysia's largest wildlife reserve.
In December 2022, Burhanuddin Kamil Bin Adenan pleaded guilty to three charges of illegally possessing 'Totally Protected' wildlife and wildlife parts under the Wildlife Conservation Act 2010.
The Temerloh Sessions Court sentenced him to a total of 10 years in prison and MYR 1,000,000 (USD 228,833) in fines. He also faces an additional three years in jail if he fails to pay the fines. The court ordered the sentences to run consecutively from the date of his conviction.
Every tiger lost is a blow, but we won't let our guard down. With every successful prosecution, we make it clear to poachers and traffickers that we are persistent in fighting for tigers and will pursue wildlife criminals to the full extent of the law."
Noor Alif Wira Osman, head of PERHILITAN's Enforcement Division.
The Malayan Tiger Panthera tigris jacksoni, native to Peninsular Malaysia, has come under tremendous poaching and trafficking pressure over the years, with less than 120 individuals estimated to be left in the wild. 
We congratulate Perhilitan on this success. It is one of the highest jail sentences we've seen given out for a tiger-related offence in Malaysia and show that the courts view wildlife trafficking as a serious crime."
Kanitha Krishnasamy, Director for TRAFFIC in Southeast Asia.
"Unfortunately, this also means a loss of three more tigers and is clearly a grim reminder that criminals won't cease targeting wild tigers," said Krishnasamy.
This continued threat to the world's remaining wild tigers came under a spotlight last year with the release of TRAFFIC's analysis of global tiger seizures, where most of the estimated 3,377 tigers seized in the past 22 and a half years took place in the 13 Tiger Range states.
Heightened concern over wild tigers in Malaysia in recent years has sparked multi-agency enforcement operation to tackle wildlife crime, channelled more funding for patrols in protected areas and the setting up of a National Tiger Conservation Task Force chaired by the Prime Minister that brings together decision makers from various levels of government.
---