Malaysia's newly launched enforcement operation showing promising results to protect wildlife
Petaling Jaya, Malaysia, 29 November 2019 – Mega seizures, dozens of suspects nabbed, and a money-laundering investigation into a local wildlife crime group – these are all results of a year-end crackdown on wildlife crime in Malaysia.
---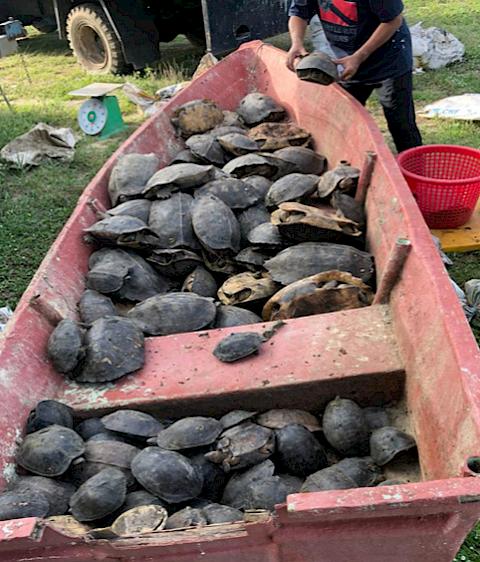 These cases are part of a new enforcement operation, which began on 3 September, jointly led by the Royal Malaysian Police Force and Peninsular Malaysia's Wildlife and National Parks Department (PERHILITAN).
Known as Ops Bersepadu Khazanah, it involves wildlife authorities in the Bornean states of Sabah and Sarawak and co-operation with several conservation organisations, and were set in motion to tackle Malaysia's wildlife poaching and trafficking crisis.
Notably, two months into Ops Bersepadu Khazanah, and authorities have opened an anti-money laundering investigation for wildlife crime.
The investigation under the Anti-Money Laundering, Anti-Terrorism Financing and Proceeds of Unlawful Activities Act (ALAMFTA) arose from a 19th November case in which four locals believed to be behind the hunting and selling of animal parts were arrested in Pasir Mas, Kelantan, and Sungai Petani, Kedah.
In the raid on four premises, enforcers seized animal parts including elephant tusks, deer antlers and various animal skins, as well as five cars owned by the four suspects, which included a Mercedes-Benz, Volkswagen and Honda.
Deputy Inspector General of Police Datuk Mazlan Mansor told press that 13 bank accounts belonging to the suspects and their family members, reportedly containing about MYR1.58mil (USD395,000), had been frozen.
The animal parts were believed to be for markets in Malaysia and Thailand and the group of four were thought to have been operating for five to six years, Mazlan said after chairing a meeting of the joint taskforce for the operations.
PERHILITAN is simultaneously investigating the four suspects for illegal hunting under Sections 60 and 68 of the WCA 2010.
"We are on to a good start, and collaboration among a number of agencies initiated under this Operation is starting to show some fruitful results. We are going to go all-out to protect our wildlife" said Dato' Abdul Kadir Abu Hashim, Director-General of PERHILITAN.   
Information on local elephant poaching gangs came to light fairly recently, with the arrest of 11 Malaysians in 2017 and 2018, who were believed to have been behind the slaughter of more than 35 elephants for their tusks and other parts.
The initiation of this anti-money laundering investigation places authorities one step closer to stamping out syndicates operating along the trade chain for poaching and trade.
Violations under the Peninsular Malaysia's Wildlife Conservation Act 2010 and the International Trade in Endangered Species Act 2008 were included in the AMLAFTA in 2014 which allows for freezing, seizure and forfeiture of assets and also carries a fine no less than five times the value of proceeds at the time of the offence or MYR 5 million (USD1.25 million), whichever is higher, or imprisonment up to 15 years upon conviction.
In the three months since the launch of Ops Bersepadu Khazanah, 64 offenders linked to 21 wildlife crime cases have been nabbed mostly in the northern and eastern parts of Peninsular Malaysia.
One of the largest cases of the operations took place in November and saw the seizure of 642 animals in Tok Bali, Kelantan. Here, Marine Police seized 100 Common Palm Civets Paradoxurus hermaphroditus, 26 Water Monitor Lizards Varanus salvator and over 500 freshwater turtles destined for the exotic meat market, just before the consignment was to be shipped to Viet Nam. A local and three Vietnamese nationals were caught.
Suspects caught in relation to the 21 cases comprised Malaysians (20) and nationals of China (14), Cambodia (9), Bangladesh (6), Myanmar (6), Indonesia (4), Thailand (3) and Viet Nam (2).
The highest number of cases registered was in Kelantan (7), followed by Johor (4), Kedah and Pahang (3) and Terengganu and Perak (2).
The cases are being investigated under legislations including the Wildlife Conservation Act 2010 (WCA 2010), Forestry Act, Johor State Parks Enactment, Immigration Act, and Firearms Act.
These early successes speak volumes of the teamwork by Police and PERHILITAN. Both agencies have done a solid job, they've shown commitment, and we hope to see more financial and institutional support for the work they are doing to fight wildlife crime
Elizabeth John, Senior Communications Officer for TRAFFIC in Southeast Asia.
Perhilitan Director General Dato' Abdul Kadir Abu Hashim who co-chaired the meeting also said the Department had cleared 359 snares in the three months of joint patrols in protected areas in Peninsular Malaysia. A number of the seizures and arrests took place in protected areas.
Separately, operations in the states of Sabah and Sarawak saw seven other seizure cases within a two-week period with hundreds of logs, sawn timber, 22 White-rumped shama, a sun bear and nine homemade guns seized.  
---