Malagasy government and TRAFFIC sign a Memorandum of Understanding to strengthen monitoring and capacity to tackle illegal wildlife trade
Supporting the Malagasy governments' efforts to combat wildlife crime and protect its uniquely endemic wildlife is the objective of a recently signed Memorandum of Understanding (MoU) between the Republic of Madagascar's Ministry of Environment and Sustainable Development (MEDD) and TRAFFIC, the wildlife trade monitoring organisation.
---
Madagascar is home to five per cent of the world's biodiversity, distinguishing it as one of the richest and most unique ecosystems on the planet. A high number of species, including tree species, amphibians, reptiles, birds, and primates, are only found on this island, making them highly sought targets of trafficking for foreign markets.
 The MoU with TRAFFIC will bring a new dimension to the MEDD's work in combatting illegal trade of Madagascar's wildlife that is hindering the sustainability of the trade and the biodiversity governance."
Ms Baomiavotse Vahinala Raharinirina, Minister of Environment and Sustainable Development of Madagascar
The MoU outlines how MEDD and TRAFFIC will work together to strengthen monitoring, research and capacity to uphold and effectively implement the Convention on International Trade in Endangered Species of Wild Fauna and Flora (CITES) regulations to combat illegal wildlife trade within and from the country. The agreement was signed on 22 July 2021 on behalf of MEDD by Mr Julien Noel Rakotoarisoa, Director General of Environmental Governance and Mr Richard Scobey, TRAFFIC Executive Director.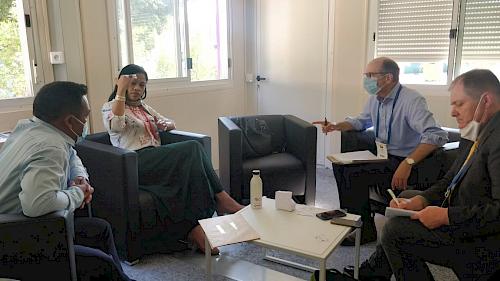 In September, MEDD and TRAFFIC delegations launched the joint work under this new MOU at the IUCN World Conservation Congress in France, where Minister Baomiavotse Vahinala Raharinirina, Minister of Environment and Sustainable Development of Madagascar, met with Richard Scobey.
"Restoring Madagascar's natural capital governance is a priority of the current government. In line with this, we are committed to improving the sustainability of Madagascar's wildlife to support national economies and local development. Strengthening the CITES implementation is a key step toward this, and our collaboration with TRAFFIC on CITES implementation is a promising and welcome step towards sustainable wildlife trade in Madagascar," said Mr Rakotoarisoa on this occasion.
The State has committed to 'eradicating all trafficking in natural resources including rosewood, tortoises and other threatened endemic species of fauna and flora' through policy. TRAFFIC projects are designed to support the government's priority to combat illegal wildlife trade in the 'Initiative for the Emergence of Madagascar.'
"Madagascar is demonstrating leadership to protect wildlife and ensure sustainable and thriving local communities. We are committed to being an integral technical advisor as Malagasy authorities draft and adopt a new National Wildlife Crime Law Enforcement Strategy," said Richard Scobey.
Existing TRAFFIC projects such as the INL-funded Law Enforcement in Madagascar: a United Response to Combating Wildlife Crime (LEMUR-CWC) will further support the government's efforts to reduce trafficking of endangered wildlife by building investigative and enforcement ability to stop the illegal off-take and trade, enhance judicial capacity and encourage increased cross-border cooperation with neighbouring countries.
With support from Durrell Wildlife Conservation Trust and TRAFFIC, the MEDD and other government departments expect to convene a 'roundtable meeting' in the next few months to level the playing field and scale-up joint efforts
---