Key CITES meeting ahead of big year for biodiversity
Geneva, Switzerland, 16th August 2019—representatives from governments across the world meet today in Geneva for the opening of the 18th Conference of the Parties to the Convention on International Trade in Endangered Species of Wild Fauna and Flora (CITES CoP18).
---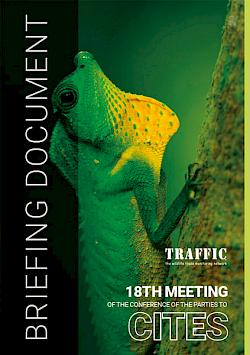 More than 180 Parties are signatories to CITES, which is the key international agreement regulating the international trade in wild plants and animals.
A packed agenda will build on progress on topics ranging from captive breeding, traceability, dealing with corruption, establishing levels of sustainable offtake (so-called non-detriment findings), and demand reduction measures, and will also consider new topics of concern, such as the songbird trade and explore proposed new approaches to deal with intractable issues such as stockpiles and strategies to address trade in big cats.
New trade regulation measures are also proposed for species including guitarfishes, wedgefishes, mako sharks, reptiles, Saiga antelope, and Giraffes, while iconic mammals like rhinos and elephants will once again feature in discussions around curtailing their ongoing poaching and illegal trade in their parts.
The agenda also includes some more strategic topics, including an item that calls for a comprehensive review of the Convention in order to enhance its impact and effectiveness. TRAFFIC would welcome such a move provided it is conducted in a transparent and impartial manner.
It is the last full meeting of CITES Parties ahead of 2020, when world governments will formulate a post-2020 Global Biodiversity Framework and Strategic Plan to reverse the decline in nature during the Convention on Biological Diversity (CBD) meeting set to take place in October in China.
TRAFFIC considers the ambitions, plans and actions of CITES and other relevant biodiversity and environmental agreements must be co-ordinated, coherent and aligned to achieve this and it is essential to ensure that over-exploitation of nature and related international trade is clearly flagged as a targeted theme for action in the post-2020 Global Biodiversity Framework.
In May this year, a landmark new report from the Intergovernmental Science-Policy Platform on Biodiversity and Ecosystem Services (IPBES) provided overwhelming evidence that nature is declining globally at rates unprecedented in human history, eroding the very foundations of our economies, livelihoods, food security, health and quality of life worldwide.
The report demonstrated that the second biggest driver of negative impacts on nature, after changes in land and sea use, is the direct exploitation of animal and plant species, including harvesting, hunting, fishing and logging.
During the CITES meeting, TRAFFIC will also be supporting moves to increase engagement with rural communities and support for livelihoods, efforts to curtail demand for illegally sourced wildlife products, measures to address wildlife cybercrime, and encouraging Parties to consider the merits of certification systems to promote legal, sustainable sourcing, such as the FairWild Standard for wild medicinal and aromatic plants.
TRAFFIC's positions on key agenda items can be found in our comprehensive Briefing Document, available in English, French and Spanish.
CITES CoP18 was originally scheduled to take place in Sri Lanka, in May–June 2019, but was postponed because of the bombings that took place there just days ahead of the meeting.
---
Notes:
Visit our dedicated page for the latest news, TRAFFIC delegation, and guidance documents on CITES CoP18.
---