John Burton's Memorial - remarks from Steven Broad
8 September 2022 - Last night, friends, family, and many from the conservation sphere gathered in London to remember John Burton, who passed away in May. A number of people gave words remarking on the huge contribution that John made for conservation, including Sir David Attenborough, Chris Packham, and TRAFFIC's previous Executive Director, Steven Broad.
---
Below are the remarks given by Steven Broad: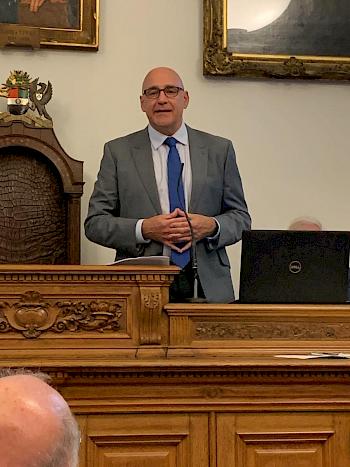 I've been asked to make a few remarks on behalf of TRAFFIC, an organisation focused on the conservation challenges and opportunities linked to the trade in wild animals and plants, which was in effect founded by John in the mid-1970s.
I stepped out of the role of TRAFFIC's Executive Director last year, but my successor, Rick Scobey, who's also here tonight, asked me to say a few words as someone who had experienced a big part of the evolution of the organisation from its early days to the present time.
I wasn't there at the very beginning, when John was asked to take responsibility for the embryonic TRAFFIC initiative that had been established as an IUCN Specialist Group as a source of evidence for the work of the newly agreed Convention on Trade in Endangered Species of Wild Fauna and Flora, or CITES as it's usually known.
However, there are some here who were part of that adventure, who no doubt have stories to tell, and fortuitously it's a journey well-documented in various conservation annals, especially the organisation's journal, the TRAFFIC Bulletin, for long the place to look to find out what was new in the world of wildlife trade research and action.
In the words of one account of the birth of TRAFFIC, "unsurprisingly, given the paucity of financial and human resources at its disposal, TRAFFIC had come in like a lamb, and a timid one at that, but once the decision was taken to appoint Burton as chair, the organisation quickly found its roar".
Looking back on TRAFFIC's evolution over the subsequent decades, it's clear that the values John advocated in its early days have remained hard-wired into the organisation's way or working through to the present day.  Impartiality, a sense of independence, the desire to discover and understand whatever you can about wildlife trade, the belief that evidence matters and can be used creatively to influence better policy and action, and a willingness to speak to say what you think is right, even when the message is unpopular.
From baiting Customs officers with obviously bad smuggling attempts, to incurring the wrath of big conservation by breaking a story about smuggling of panda skins from China and no doubt 1,001 other adventures in those early days, John and the early TRAFFIC team built a foundation that has stood the test of time.
As TRAFFIC's CEO for 25 years, I bumped into John here or there from time to time and I knew he would always test me with the same questions. What's new in wildlife trade?, is CITES achieving its potential?, what news from the TRAFFIC alumni and, most importantly , do you still have the freedom to speak to the facts, whatever they might be?
It's testament to John's pride in the organisation he built, that these encounters felt rather like examinations that could be passed or failed. We did our best to keep building on those foundations. I'm sure those values that John brought to TRAFFIC will remain part of its DNA as it continues to grow in the future and that, as the source of that inspiration, his contribution to action on wildlife trade will be remembered.

---