WWF and TRAFFIC's ivory initiative receives top media award in China
Beijing, China, 7th December 2016—The joint WWF and TRAFFIC ivory initiative has been recognised at the Global Fashion & Charity Annual Festival 2016 held in Beijing for its contribution towards raising awareness for protecting elephants and calling on the public to stop buying ivory products. 
---
It is the second time that WWF and TRAFFIC's joint work on illegal wildlife trade has received this popular award since 2014, when they were recognized for their efforts to raise global awareness at the highest political levels about the seriousness of wildlife crime. This time the two organizations collaborated through a joint venture with TRAFFIC providing evidence and research to support a public engagement campaign led by WWF
The award was presented by Gao Min, the famous former international springboard diving champion on behalf of influential news outlets People.cn, huanqiu.com and the Global Times newspaper, who co-hosted the event. TRAFFIC and WWF's ivory campaign was selected among the Top 10 by a panel of experts and celebrities active in the philanthropy field in China. Four criteria were used in their evaluation: inspiring the public, cross-over, multi-means of communication and environmental friendly execution. The campaign was the fourth most popular on the event's online platform, receiving 680,000 votes from visitors.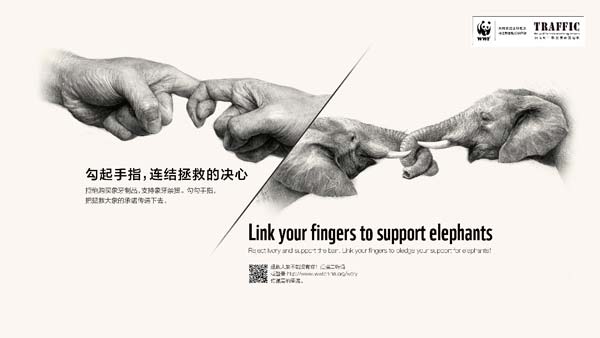 Sammi Li, Senior Communications Officer with TRAFFIC's China Office accepted the award on behalf of TRAFFIC and WWF. She said: "TRAFFIC and WWF's joint venture was launched in July 2016 and called for the public to link their fingers to show their commitment towards refusing ivory products and supporting the Chinese government's ivory trade ban."
"One key measure to combat elephant poaching and illegal ivory trade is to reduce the demand for ivory products in consumer markets by raising awareness and educating the public about the crimes which are part of the trade." 
The campaign was launched to build public support for the government's decision to phase out the domestic ivory trade, which was initiated by President Xi Jinping in September 2015 during his visit to Washington, USA. The US has already imposed a near total ban on its domestic ivory market after new regulations came into force in July this year. 
Around 20,000 elephants are poached for their tusks each year. Zhou Fei, Head of TRAFFIC's China Office and representing WWF China Wildlife Trade Programme said: "We encourage anyone who has been touched by the campaign to pass their Stop Buying Ivory pledge message on by contacting their friends, colleagues and associates through social media and other means to help spread the word."
---