Indonesia: Bengkulu Police arrest suspected ivory trafficker
Bogor, Indonesia, 20th July, 2015—Polda Bengkulu (Bengkulu Police) supported by Polres Kaur (District Police), the Government of Indonesia, WCS's Wildlife Crimes Unit (WCU), TRAFFIC and the Rhino Protection Unit (RPU) today announced the arrest of a suspected Asian Elephant ivory trafficker.
---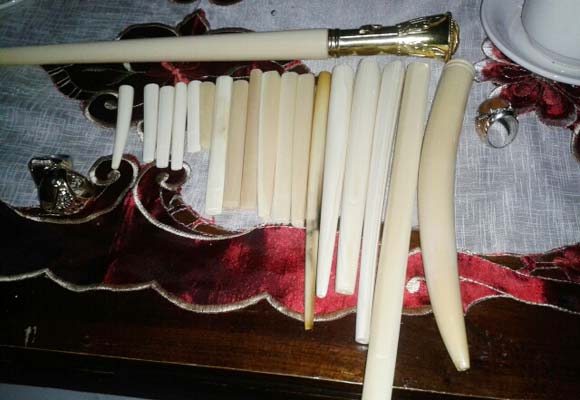 The arrest was led by Police Adjunct Commissioner Kusnul Komar, S.Ik from Subdit Tipiter Dit Krimsus, Bengkulu Police, and took place in Bintuhan, a small city located in Northern Bukit Barisan Selatan National Park. Bintuhan is a notorious transit point for ivory, tiger skins and other wildlife contraband. 
According to Police Senior Commissioner Roy Hadi Siahaan, Director of Special Crime, Bengkulu Police, investigators are still working on the case to unravel the ivory trade syndicate and track the hunting locations. The Bengkulu Police are ready to respond to any information related to wildlife trafficking to protect animals from illegal exploitation in Indonesia, he said. 
Under Indonesian law, trafficking ivory is punishable with a penalty of up to five years imprisonment and a maximum fine of USD10,000.
Joe Walston, Vice President of WCS Field Conservation Programs said: "This arrest sends a clear message that wildlife trafficking in Indonesia will not be tolerated.  We congratulate our partners for their hard work in arresting the alleged trader and we look forward to a swift trial, and, if found guilty, a strong sentence that will serve as a warning to other potential traders."
Dr Chris R. Shepherd, Regional Director for TRAFFIC in Southeast Asia said: "Throughout its range, the Asian Elephant is endangered, but the populations in Sumatra are under greater threat than most. TRAFFIC is very encouraged to see the authorities in Indonesia take such swift and decisive actions against suspected illegal ivory dealers, and they are to be congratulated. Only through efforts like this will we see an end to the relentless poaching and illegal trade."
The RPU Law Enforcement Co-ordinator, Ujang, said that the trend of using ivory for smoking pipes and swagger sticks has increased significantly. However, the efforts to combat ivory trade are costly, and at least 10 percent of arrested ivory traders are repeat offenders due to light punishment and high profit margin from ivory trafficking.
---