Critically Endangered Echidna among wildlife menagerie seized in Philippines
Philippines, 9th April 2019—A large seizure of 450 live wild animals from the island of New Guinea has been made in the southern Philippines, comprising hundreds of birds, dozens of reptiles, and a single Critically Endangered Western Long-beaked Echidna Zaglossus bruijni.
---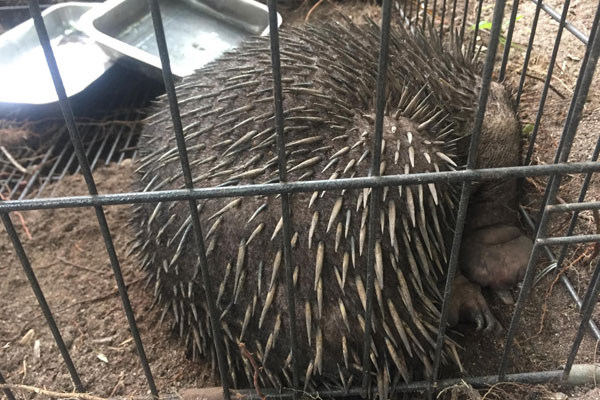 The discovery comes a year after a similarly large seizure of Indonesian wildlife was made close to the Philippine capital, once again highlighting this illegal wildlife trade route in Southeast Asia. 
On Monday, 8th April authorities acting on a tip off raided a premise in Mati City in the Davao Oriental province finding many threatened birds, the majority from Indonesian Papua and Papua New Guinea.
Among them were 24 Endangered Red-and-Blue Lories Eos histrio and 20 Palm Cockatoos Probosciger aterrimus, both listed in Appendix I of the Convention on International Trade in Endangered Species of Wild Fauna and Flora (CITES) and thus banned from commercial international trade.
Nine other bird species were listed in Appendix II of CITES and included Pesquet's Parrot Psittrichas fulgidus, Eclectus Parrot Eclectus roratus and Black-capped Lory Lorius lory. These species are heavily trapped from the wild to feed the demand for pets. 
Only two mammals—a wallaby and a Western Long-beaked Echidna—were found alongside the smuggled birds. 
Rarely seen, even in trade, the Western Long-beaked Echidna is found in Indonesian Papua and is often described as one of earth's most mysterious mammals. This egg-laying mammal is threatened by hunting and habitat loss.  This echidna has only been found in two previous seizures in the Philippines, both in 2014. The first, a seizure of three animals on 15th February 2014 at Lipata Port in Surigao City, Surigao del Norte Province, Mindanao Island, and the second a seizure of one animal less than a week later in mid-sea of the Municipality of Glan, Sarangani Province, Mindanao Island. In both cases the echidnas were seized along with other wildlife from Indonesia.
Monday's enforcement action was taken by a joint force from the Environmental Crime Division–National Bureau of Investigation (EnCD-NBI), Philippine Operations Group on Ivory and Illegal Wildlife Trade-Biodiversity Management Bureau of the DENR (POGI-BMB/DENR), Department of Environment and Natural Resources (DENR) Region 11, Philippine National Police-Mati City, and the 28th Infantry Battalion of the Philippine Army.
Two men were arrested and are expected to be charged with illegal possession and trade of wildlife Under Republic Act No. 9147 or the Wildlife Resources Conservation and Protection Act of 2001, they could face up four years in jail and a PHP300,000 fine (USD5,750). 
We congratulate the Philippine authorities for working together on this significant bust
TRAFFIC's Director for Southeast Asia, Kanitha Krishnasamy
Authorities report that only one bird and a tree monitor had died but add that many others were in poor condition. The seized animals are in the temporary care of Mati City Environment and Natural Resources Office until a more permanent arrangement to assess and rehabilitate the wildlife can be made. 
"Wildlife trafficking is rampant on this sea route from Eastern Indonesia to the Philippines." said TRAFFIC Programme Officer Serene Chng.
"Close collaboration between the countries is required to tackle this cross-border issue that is impacting species in these biodiversity hotspots. TRAFFIC stands ready to support the effort," said Chng.
---