Indigenous peoples key to timber trade policy
Yokohama, Japan, 18th December 2010—The views of indigenous peoples and community-based organizations are an essential element of forestry and climate change debates, and their opinions are vital in shaping policies and decisions in the forestry sector, a key timber meeting in Japan this week was told.
---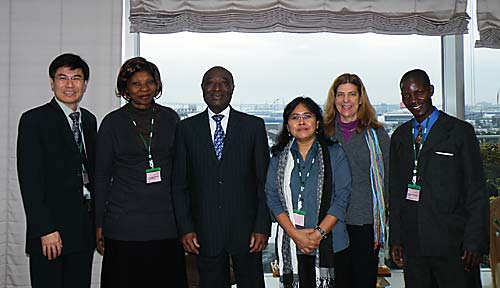 The comments came in a statement made to members of the International Tropical Timber Trade Organization (ITTO) by the organization's Civil Society Advisory Group (CSAG).
According to the statement, there is "a growing trend in a rebalancing of the voices shaping policies and decisions in the forest sector. Indigenous peoples and community-based organizations…are increasingly shaping decisions in the forest sector, extending to forest management, trade and market decision-making, and to promotion of SFM [Sustainable Forest Management] and equitable and just conservation models that respect rights and tenure of communities, indigenous peoples and vulnerable minorities and women."
The statement also noted the challenge facing ITTO on how its members could advance legal trade and Sustainable Forest Management without creating a barrier to segments of the tropical timber industry.
"Good governance is a prerequisite for countries to move forward on a sustainable timber trade policy and ITTO is uniquely placed to ensure this can happen," said Chen Hin Keong, TRAFFIC's Global Forest Trade Programme Leader and Co-chair of ITTO's Civil Society Advisory Group.
Indonesia has already signalled an interest in hosting an international conference on tenure and governance in forestry and timber trade, in 2011.
According to Chen, such a conference "would enable ITTO and its member countries to engage actively with civil society and forest communities in Asia and share lessons on tenure and governance reforms."
The CSAG statement also noted the rapidly rising importance of domestic and regional markets, which would create an increasing number of opportunities for smallholder and community enterprises, as well as other levels within the timber industry.
"The domestic and regional timber trade is big and will only get bigger," said Chen. "The challenge is to ensure this happens in a sustainable manner, with fair-sharing of the benefits from those who will profit from it."
CSAG also recommended ITTO applies sustainable harvesting standards for wild forest biodiversity that comply with those discussed at October's meeting of the Convention on Biological Diversity (CBD CoP 10) and that the ITTO should include more work on non-timber forest products (NTFPs).
Finally, the CSAG also called for strengthened collaboration between ITTO and CITES (the Convention on International Trade in Endangered Species of Wild Fauna and Flora), on both threatened timber species and other non-timber forest products that may be at risk of over-exploitation.
The full statement made by the CSAG to ITTO.
---