Amphibian pet trade, consumer attitudes in Myanmar and how to assess end-market interventions: a selection of the fascinating topics in the latest TRAFFIC Bulletin
Cambridge, UK, 11th November 2020—the eagerly awaited latest issue of the TRAFFIC Bulletin is published online today, and covers a wide range of wildlife trade-related topics, among them the migration of Asian songbird competitions online in response to the lockdown measures imposed in Indonesia to help counter the COVID-19 pandemic. 
---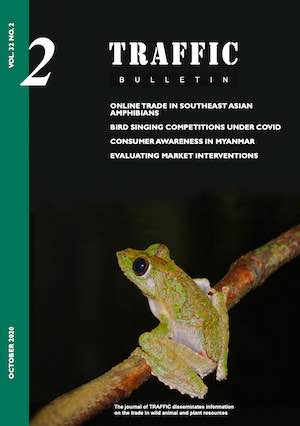 Unsurprisingly, the COVID-19 pandemic and its impacts on wildlife trade and the key meetings that were scheduled to take place in 2020 the "super year" for biodiversity are discussed in a thought-provoking Editorial by TRAFFIC's Director of Policy, Sabri Zain. As Zain notes, "[the pandemic] has shown how human health and well-being is inextricably linked to biodiversity and planetary health." 
In addition to the regular news items other papers examine recent changes to Indonesia's quarantine legislation and their potential for Indonesia to become "the gold standard for how quarantine agencies should evolve as a recognised partner internationally in monitoring and controlling wildlife trafficking while upholding health and safety controls." 
A fascinating insight into the use of wild animal products by consumers in three cities of Myanmar establishes a valuable baseline against which to measure future policy changes. As the study concludes: "Efforts to raise awareness about the need for protection of wild animals, their value and the need for conservation to prevent resource depletion are priority actions for the authorities in Myanmar, and such efforts need to begin at an early age." 
The pet trade in amphibian species rarely receives the attention it deserves, despite evidence some species are at risk of over-exploitation, so an in-depth look into the internet-based trade in Southeast Asia amphibian species is a particularly welcome topic. 
Finally, a feature article examines new measures to assess the impact of end-market interventions  to address harmful wildlife trade. The authors describe the development of a new approach to help with this essential aspect of wildlife trade monitoring and test its applicability more generally, in particular through case studies on the legal international diamond trade and the illegal trade in a banned commodity—cocaine. 
This is the last instalment in the 32nd volume of the TRAFFIC Bulletin, which remains the only journal dedicated exclusively to international wildlife trade issues and associated conservation concerns. It also marks a turning point in the publication's history as it is the first in the "post-Lochen era" following the retirement of the long-term editor, Kim Lochen. An acknowledgement of Kim's remarkable achievement in steering the Bulletin through decades of TRAFFIC's history and growth as an organisation is also acknowledged: she will be sorely missed. 
---