Engaging China's youth in protecting marine turtles
Guangxi, China, 25th March 2013—TRAFFIC has taken steps to engage the next generation of Chinese society in a campaign focused on preventing illegal trade of marine turtle products in Guangxi Province, bordering Viet Nam.
---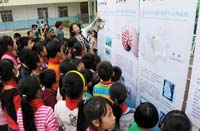 Themed as "Small Hands and Big Hands, Hand in Hand", the campaign has reached out to elementary school students in Daxin County and two other cities, namely Dongxing City and Pinxiang City, both historically important market locations for wildlife products. 
Local students have become the messengers to their families, bringing home new knowledge and communications materials to share with their parents.  The materials will then be returned to school with their parents' signatures, with the aim of allowing as many households as possible in the area to participate.
Around 150 students and their parents, along with school staff, attended the campaign launching event at the Kafeng Elementary School on 14th March.  Also attending were representatives from TRAFFIC, Nanning Branch of China's CITES Management Authority and local government officers.
Jiang Yan, head of the Nanning CITES MA branch, gave a speech on the importance of wildlife protection, while Yuanming Zhou, vice mayor and the police head of Pinxiang City committed to work on making the city a leader in terms of wildlife protection, and set an example to all border cities in the country. 
The audience, mostly children between 6 and 11 years old, showed their enthusiasm when asked for their help to protect marine turtles. Following some instruction from Xu Ling, TRAFFIC's Senior Programme Officer, many committed themselves to report to their teachers or even the police, if they saw people catch or trade marine turtles. 
Additional follow-up activities will give students the chance to write their ideas on how they can continue to play a part in protecting marine turtles.  Winning articles will be posted on TRAFFIC's Chinese website as well as Chinese social media sites to amplify public engagement.
The following day, also in Guangxi, banners promoting marine animal protection were displayed at a public event celebrating the annual Consumer Rights Day, which always receives wide public attention in China.  As part of efforts to reduce demand for illegal wildlife products in China, TRAFFIC used the event to show how the sale of illegal wildlife products is itself a violation of the rights of Chinese consumers.  
"With the help of government partners and local communities, we have tried to be innovative with several campaign approaches in Guangxi," said Dr Jianbin Shi, Head of TRAFFIC in China. 
"TRAFFIC looks forward to more efforts from local people to prevent illegal wildlife trade, and help create a harmonious living environment – an ecologically integrated society for both humans and wildlife."
TRAFFIC campaigns on marine turtle protection in Guangxi are part of the WWF Coral Triangle programme.
---