Efforts to halt world's biodiversity loss under the spotlight
Sharm El Sheikh, Egypt, 18th November 2018—starting this weekend, worldwide government representatives of 196 Parties and experts observers are meeting for the 14th Conference of the Parties (CoP) to the Convention on Biological Diversity (CBD) in Egypt in what is widely regarded as a critical moment in global efforts to halt loss of the earth's biodiversity. 
---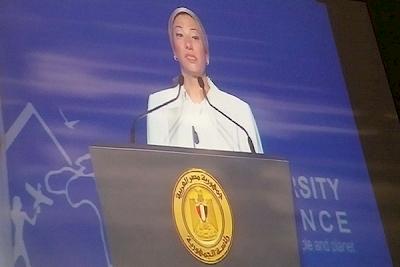 It is the last full meeting of the Convention before 2020 when new goals will be set aiming to slow and reverse the inexorable tide of species loss that threatens the planet's ecosystems.
In welcoming participants to the first ever CBD CoP to be held in the Arab world, Her Excellency, Yasmine Fouad, Minister of Environment, Egypt outlined the plan of Parties to review the implementation of the Strategic Plan for Biodiversity 2011-2020, chart the course for the remaining years of the current plans, and set the stage for the development of a much needed post 2020 global biodiversity framework.
Cristiana Pașca Palmer, CBD Executive Secretary put it bluntly: "we are failing, but we have a chance to bend the curve on biodiversity loss by 2030…the next two years present an opportunity to mobilise action to turn the ship around."
Conservationists have generally welcomed the pre-meeting high-level commitment termed the "Sharm El Sheikh Declaration on Investing in Biodiversity for People and Planet."
However, at the same time they expressed concerns due to lack of stronger mainstreaming, calling for integration of CBD objectives across all political and economic sectors, and urged the strong need for higher commitments by political and business leaders to halt biodiversity loss.
"Ensuring that the world's biodiversity is managed sustainably is quite simply the most important long-term issue facing humankind," said Roland Melisch, TRAFFIC's Senior Director for Africa and Europe, among those representing TRAFFIC at the meeting.
"If we continue to whittle away at what we've got, it won't be long before our life support systems collapse: this is an issue that warrants the highest-level political attention and accountability."
In another pre-meeting event, speakers during the Business and Biodiversity Forum reminded participants of the need for a strong business case for biodiversity conservation.
"By choosing products made from sustainably and ethically sourced ingredients, such as those with FairWild certification, every single one of us as consumers can encourage businesses to see the benefits of protecting biodiversity," commented Melisch.
On 21st November, TRAFFIC will be co-hosting a whole day's side event, the Second Wildlife Forum, alongside partners of the Collaborative Partnership on Sustainable Wildlife Management (CPW), which will focus on sustainable use for conservation and livelihoods.
Speakers at the Wildlife Forum will include Her Excellency Yasmine Fouad, Minister of Environment, Egypt, Dr Cristiana Pașca Palmer, Executive Secretary, UN Convention on Biological Diversity, and Dr. Taye Teferi, TRAFFIC's Policy and Partnership Coordinator for Africa. For more information, including the full programme and to register for the Wildlife Forum, please visit https://www.wildlife-forum.com/
Further information on documents and more details on the substance of deliberations and negotiations between Parties at CBD CoP14 can be found here:
CBD Secretariat: https://www.cbd.int/meetings/COP-14
IISD: http://enb.iisd.org/biodiv/cop14/
More on TRAFFIC's work on CBD can be found here: https://www.traffic.org/about-us/collaborators/cbd/
---