Philippine bird trade targets Indonesian species
Manila, Philippines, 16th March 2018—The thriving illegal wildlife trade from Indonesia to the Philippines has come into the limelight once again with the discovery of hundreds of threatened Indonesian wildlife in a Philippine home.
---
While there are frequent seizures of Indonesian species trafficked to the Philippines, this find of 312 birds and mammals on 12th March is significant for its sheer size and variety of wildlife involved.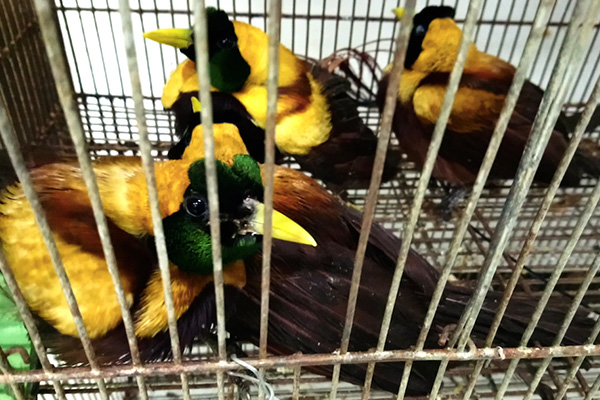 Most of the species are in demand for the illegal pet trade and are thought to be from the island of New Guinea, which comprises the Papua province of Indonesia and Papua New Guinea. 
Among the animals seized were over 100 cockatoos including Sulphur-crested Cockatoos Cacatua galerita triton, Moluccan Cockatoos Cacatua moluccensis and Palm Cockatoos Probosciger aterrimus. 
Black-capped Lories Lorius lory, Red Birds-of-paradise Paradiseae rubra, Large Fig-parrots Psittaculirostris desmarestii, sugar gliders, and wallabies were also found in the Pasay City home.
However, since the seizure, many of the animals have died and it is understood the Philippine authorities are discussing possible repatriation of the surviving animals with their Indonesian counterparts.
Four men were arrested in a joint operation by Philippine Operations Group on Ivory and Illegal Trade of the Biodiversity Management Bureau (BMB) and the National Bureau of Investigations.  One of the suspects was previously arrested for illegal possession and trading of wildlife from Indonesia and the Philippines, including skinks, Palm Cockatoo and Palawan endemic species such as the Philippine Forest Turtle Siebenrockiella leytensis.
The suspects have undergone inquest proceedings and are detained pending a bail hearing in court.
"TRAFFIC commends the multi-agency co-operation that has cracked down on a significant trafficking operation between the two countries," said Acting Regional Director of TRAFFIC is Southeast Asia, Kanitha Krishnasamy.
We urge authorities to deepen investigations into the entire network smuggling Indonesia's threatened species into the Philippines and ensure repeat offenders get stiffer penalties. It's time to make clear the message that such a crime is not taken lightly
Acting Regional Director of TRAFFIC is Southeast Asia, Kanitha KrishnasamyThe trend of smuggling live wildlife, including large numbers of parrots and cockatoos from the New Guinea island to the Philippines is well established. In 2014, two shipments from this area were intercepted in the southern Philippines en route to Manila. Species seized included Red-necked Wallaby Macropus rufogriseus, echidnas, lorikeets, Palm Cockatoo, and Pesquet's Parrot Psittrichas fulgidus.  
Indonesia has also foiled numerous wildlife smuggling attempts to the Philippines, mostly involving wild-caught parrots from Indonesian islands that are located close to the Philippines, such as the Maluku and Talaud islands. This includes at least four seizures of 462 Indonesian endemic parrots between 2013 and 2017. 
TRAFFIC urges the public to notify BMB at 925-8952 or 925-8953 immediately if they come across suspected illegal wildlife activity. Alternatively, reports can also be made via the Wildlife Witness App through TRAFFIC, who will liaise with the relevant agencies for appropriate action.
---