DHL eCommerce, TRAFFIC, and WWF Collaborate to Combat Illegal Wildlife Trade in Hong Kong
Hong Kong, 8th March 2019—DHL Asia Pacific's efforts to prevent wildlife traffickers from using its supply chains are being supported by TRAFFIC, through the USAID-funded Wildlife Trafficking Response, Assessment and Priority Setting (Wildlife TRAPS) Project, in collaboration with WWF-Hong Kong. Today, TRAFFIC and WWF Hong Kong delivered a capacity building workshop for DHL eCommerce Solutions staff to identify opportunities and next steps for combating wildlife smuggling attempts.  
---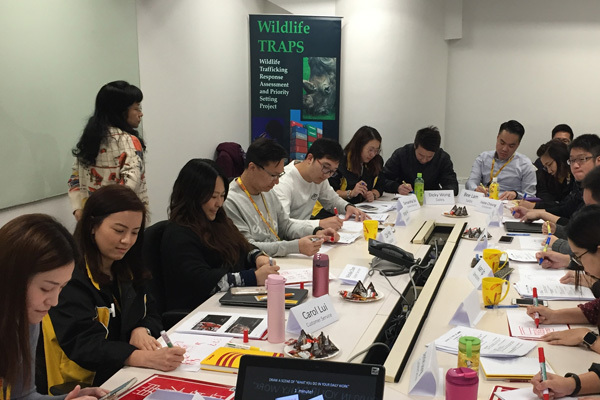 The workshop covered the local and global implications of wildlife trafficking, the role of CITES1 in regulating international trade in wildlife, common trade routes, the modes and methods used by wildlife traffickers for shipping illegal products, and risks to the transport and logistics sector. Participants discussed potential vulnerable points at their Hong Kong hub; ways to strengthen business operations, staff, and customer awareness; and reporting mechanisms for wildlife trafficking.
 "DHL eCommerce Solutions is committed to preventing the facilitation of illegal wildlife trade. Wildlife trafficking knows no boundaries, and today's workshop equipped us with tools to help us identify what actions can be taken to strengthen our business operations against exploitation from traffickers. Partnering with wildlife trade experts like TRAFFIC and WWF has been very beneficial for our company and we look forward to their continued support." Said Michelle Chan, Head of Customer Service, Greater China, DHL eCommerce Solutions.
"The role that logistic companies like DHL can play in combatting wildlife trafficking is clear. Given the growing complexity and massive network of illicit wildlife trade, collaboration between private sector, government, and NGOs is essential in stepping up our efforts and creating new solutions against wildlife crimes." said Dr Edward Lau, Endangered Species Protection Officer of Agriculture, Fisheries and Conservation Department, the CITES Management Authority of Hong Kong, who attended the workshop.
"Trafficking is a serious crime with the illegal trade in fauna and flora estimated to be worth US$7–23 billion annually2. Corporate leadership from the transport and logistics sector can provide critical contributions in the protection of vulnerable species from the widespread poaching that threatens their continued survival. The ability to identify and detect potentially illegal shipments can help deter traffickers and reduce incentives for poachers", said Tracy Tsang, Manager, Footprint and Sustainability at WWF-Hong Kong.
TRAFFIC will continue to provide technical guidance to DHL to support the implementation of the action points identified during the event. This workshop is part of a wider collaboration between TRAFFIC and DHL to stomp out illegal wildlife trade through shipping supply chains. Last year, TRAFFIC and DHL convened workshops for DHL staff in Ho Chi Minh City and Hanoi in Viet Nam, and in Bangkok, Thailand.
Criminal syndicates take advantage of the great connectivity provided by commercial transport networks to smuggle illegal wildlife, undermining conservation efforts and the rule of law. The Deutsche Post DHL Group is one of the 113 transport companies that have joined the United for Wildlife Transport Taskforce and signed the Buckingham Palace Declaration. Today's workshop could be seen as another practical example of translating the Declaration's commitments into real action
TRAFFIC's Monica Zavagli, Wildlife TRAPS Senior Project Officer
In recent years, Hong Kong has been on the front lines of many large-scale illegal wildlife seizures, intercepting shipments of rhino horn, ivory and pangolin scales, among other commonly-traded wildlife products.
Many in the transportation sector are recognising the need to take action against wildlife trafficking. Recently, Etihad Airways and Qatar Airways developed new online learning modules designed to inform employees of the business risks associated with the illegal wildlife trade and ways to prevent them. In addition, the USAID Reducing Opportunities for Unlawful Transport of Endangered Species (ROUTES) Partnership has conducted trainings across Africa, the Americas, the Middle East, and Asia to train airport and airline employees in key wildlife trafficking hubs. Through ROUTES, e-learning courses are freely available for cargo acceptance staff and other air transport roles to learn how they can help combat illegal wildlife trafficking at first interaction.
---
Giới thiệu về Wildlife TRAPS
The USAID-funded Wildlife Trafficking, Response, Assessment and Priority Setting (Wildlife TRAPS) Project is an initiative that is designed to secure a transformation in the level of co-operation between an international community of stakeholders who are impacted by illegal wildlife trade between Africa and Asia. The project is designed to increase understanding of the true character and scale of the response required, to set priorities, identify intervention points, and test non-traditional approaches with project partners.