Workshop held to consolidate interagency law enforcement mechanism in China
Haikou, Hainan, June, 2018—China's Ministerial Level Coordination Mechanism for Combating Illegal Wildlife Trade was enhanced through a training workshop jointly organised by the Department of Wildlife Conservation and Nature Reserve Management, State Forestry and Grassland Administration (SFGA), TRAFFIC and the China Wildlife Conservation Association(CWCA).[1]
---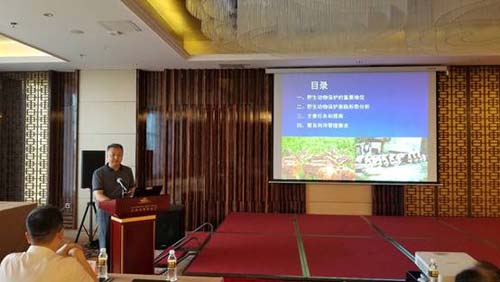 More than 70 government representatives including leading agencies and experts joined the first meeting to take place since the ministerial level inter-governmental co-ordination mechanism to combat illegal wildlife trade was formed in 2016. The workshop took place shortly after significant institutional reform in
China earlier in the year, indicative of the significant political will and commitment to this issue.
Representatives from SFGA,Forest Police, Customs, the Ministry of Agriculture and Rural Affairs, the Administration for Industry and Commerce, and the Ministry of Public Security all shared their perspectives and experiences in addressing illegal wildlife trade. Experts spoke about some of the frequently traded endangered species and how to identify them.
There was a comprehensive interpretation of the Wild Animal Conservation Law, related Criminal Law and enforcement thereof. Speakers from the Supreme People's Court, Standing Committee of the National People's Congress and SFGA spoke about the judicial interpretation of wildlife crime, interpretation of the Wildlife Protection Law and administrative enforcement of wildlife legislation respectively. Such strongly linking legislation, law enforcement and jurisdictional justice systems would help ensure China's effort in combating wildlife crime reflects the concept of "law-based governance, rule of law" raised during the 19th National Congress of the Communist Party of China.
During a Q&A session, participants raised a number of questions, including what criteria should be used for estimating the value of wildlife and products in seizure cases. In response, attention was drawn to SFGA's recently launched "Methodology for value assessment of wild animals",[2] which should prove to be a useful tool to make such assessments. SFGA spoke about making more guidance information available to support law enforcement and justice procedures for combating wildlife crime.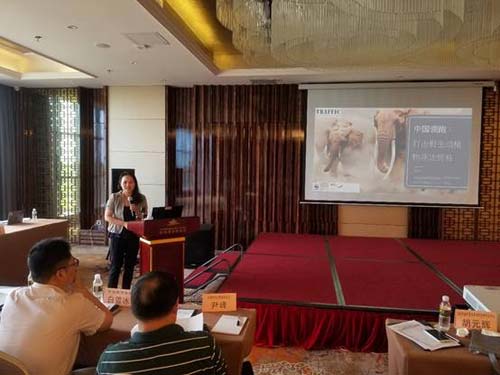 Private sector partners, including internet and logistic companies, were invited to the meeting as well. As leading companies in the Global Coalition to End Wildlife Trafficking Online, Tencent and Baidu spoke about their efforts to address online illegal wildlife trade, such as the Tencent for the Earth Wechat programme and Baidu's Biodiversity Conservation online communications project.
Action by relevant business leaders plays an important role in regulating social and e-commerce platforms that can by abused by wildlife traders to conduct illegal activities. Express mail company EMS spoke about the actions it has taken to prevent illegal wildlife trade through its courier services. These companies also serve as effective channels for educating customers, including both sellers and buyers, and encouraging them not to participate in the illegal trade of wildlife products.
Representatives from WCO's Regional Intelligence Liaison Office for Asia and the Pacific, CWCA and TRAFFIC introduced how IGOs and NGOs contribute to efforts to counter illegal wildlife trade. Xu Ling, Acting Head of TRAFFIC's China office, spoke about the organisation's core activities in China, including market surveys, capacity building for enforcement agencies, demand reduction and public advocacy.
"TRAFFIC, as a professional organization focusing on wildlife trade, will continue to provide science-based research and analysis on the status and trends in such trade to government agencies engaged in combating wildlife crime and towards supporting legal and sustainable wildlife use,''she said 
Representatives from the authority in charge of SFGA's administration overseeing foreign NGOs welcomed the participation of such organisations through their expertise and resources in helping efforts to combat illegal wildlife trade.
TRAFFIC is committed to facilitating communications and co-operation between government and the private sector to enhance law enforcement efforts against wildlife crime.
This workshop meeting was generously supported by WWF, the German Government, and UK Aid.
---
Notes:
[1] The mechanism was established in 2016 and approved by the State Council. There are 22 government agencies involved, aiming to improve long-term co-ordination in law enforcement actions to combat illegal wildlife. The State Forestry and Grassland Administration is the leading agency.
[2] http://www.gov.cn/xinwen/2017-12/04/content_5244280.htm
---
About DETER
Germany's Partnership against Poaching and Illegal Wildlife Trade, DETER is supported by the German government's Partnership against Poaching and Illegal Wildlife Trade (in Africa and Asia), implemented by GIZ on behalf of the German Federal Ministry for Economic Cooperation and Development (BMZ) and the German Federal Ministry for Environment, Nature Conservation, Nuclear Safety and Consumer Protection (BMUV.) www.giz.de