Customs learn how to identify horns and hooves
Vladivostock, Russia, 4th June 2009–Customs officers from the Russian Far East and Eastern Siberia are being taught how to identify wildlife products such as trophies, stuffed animals and plants, basic ways to determine their value and origin and how best to store such items. 
---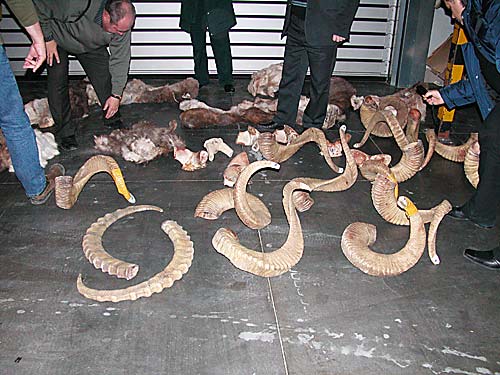 "It is an important part of their professional development that Customs officers receive State certificates to enable them to conduct such biological and merchandising evaluations of confiscated wildlife goods," commented TRAFFIC-Europe's programme officer Natalia Pervushina. 
"High quality, professional evaluations of wildlife products are key to investigations into smuggling operations," she added. 
Previous courses have demonstrated how illegal transportation of wildlife products is of critical concern not only in the Russian Far East but also in Eastern Siberia. 
The courses were specifically developed by the Vladivostok branch of the Russian Customs Academy (VB RCA) and Irkutsk Agricultural Academy on "Principles of identification and economic evaluation of wildlife products" and held in Irkutsk on 25–30 May. 
They brought together specialists from Zabaikalye to Primorsky province with 13 experts from regional branches of the Central Expert-Criminal Customs Directorate, Scientific Expert Center in VB RCA, plus experts from the WWF Amur branch and TRAFFIC. 
For the last 10 years, TRAFFIC and WWF have been co-operating with nature protection and enforcement agencies in the Russian Far East region, particularly through their ecological and zoological expertise of seized wildlife products and derivatives. 
"The training leading to State certificates is the result of comprehensive collaboration between WWF, TRAFFIC, the Vladivostok branch of the Russian Customs Academy and Irkutsk Agricultural Academy," commented WWF Amur Branch biodiversity co-ordinator Pavel Fomenko. 
"Better quality evaluations of illegally traded wildlife items will greatly assist legal cases concerned with ecological crimes." 
TRAFFIC and WWF are assisting the training initiative, thanks to support provided by WWF Netherlands and WWF Germany.
---