Australia confiscates 130 km long deepwater gillnet
Sydney, Australia, 6th November 2009—Just days after TRAFFIC wrote to the fledgling South Pacific Regional Fisheries Management Organization (SPRFMO) to express alarm that Flag States are allowing deepwater gillnetting, Australia has revealed it confiscated a huge gillnet set illegally in Antarctic waters earlier this year. 
---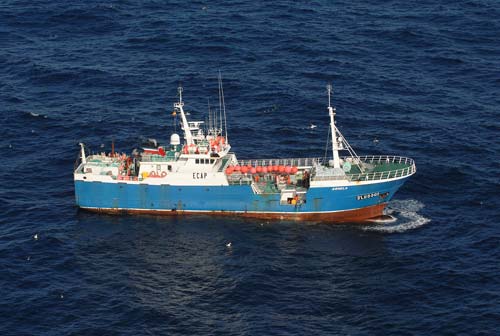 The net, or rather series of nets strung together, was confiscated this April at Banzare Bank in the south western Indian Ocean and measured a staggering 130 km end to end—roughly the same distance as the width of New Zealand's South Island—and set at a depth of 1.5 km. 
The area is within waters controlled by CCAMLR (the Commission for the Conservation of Antarctic Marine Living Resources), the international fisheries management body that regulates fishing in Antarctic seas, where gillnet fishing has been banned since 2004. 
Inside the net were 29 tonnes of Antarctic Toothfish, plus a significant bycatch of skates. No vessel was apprehended. 
Vessels fishing illegally (so-called Illegal, Unreported and Unregulated (IUU) vessels) in Antarctic waters are increasingly using gillnets rather than longlines to target Patagonian and Antarctic Toothfish.
According to the Commission's Scientific Committee, gillnets are a relatively destructive fishing method. 
"Gillnets are becoming more popular for illegal fishing activities because they do not require bait and are operated with fewer crew than longline vessels," explained Glenn Sant, TRAFFIC's Marine Programme Co-ordinator. 
Meanwhile, this July a New Zealand Maritime Surveillance Patrol photographed a Spanish vessel, the Arnela, believed to be carrying deepwater gillnets in high seas waters between Australia and New Zealand. 
A South Pacific Regional Fisheries Management Organization is currently being established to regulate fishing in such waters, and before the fledgling committee is a claim by Spain that gillnetting does not present any serious impact on vulnerable marine ecosystems.
"TRAFFIC calls for a ban on the use of gillnets unless it can be demonstrated that such fishing is sustainable and the loss of gear and resultant ghost fishing can be prevented," said Sant. 
Currently the use of gillnets is banned in the CCAMLR area and they are banned below certain depths in the North East Atlantic. 
---