Animals in trade under spotlight in Asian conference
Kuching, Sarawak, October 2015—Participants from around the world came together for a week-long dialogue at the Asia for Animals Conference recently. Themed "Partnerships Breed Success", this year's event saw over 300 people from across 25 countries, the majority from the Asian region, discussing and sharing ideas on how Asia can transform the way animals, both wild and domestic, are viewed, managed and protected. 
---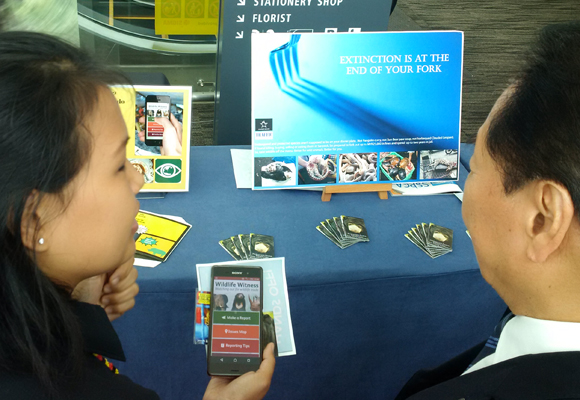 Held in Kuching, Sarawak, on the island of Borneo, the participants examined various elements of animal conservation and welfare in more than 60 sessions spanning seven different relevant themes, including wildlife trade. 
The wildlife trade session covered a wide range of issues, including the availability of protected and highly threatened species such as tigers, bears, pangolins and slow loris in both physical and virtual markets as well as trade and confiscations. TRAFFIC chaired a session on "Animals in Trade" and TRAFFIC staff also presented on wildlife trade in Malaysia and Borneo, the great ape and gibbon trade in zoos and exhibit areas in Peninsular Malaysia and Thailand, and on the use of social marketing as a tool to reduce the demand and consumption of rhino horns in Vietnam. 
A special session on Borneo was also held by Borneo Futures, combining Bornean science and conservation issues with music, art and comedy. Activities focused on the theme of Borneo's wild places and animals which have been under immense threat for decades—from forest loss through logging and conversion for plantations, mining, damming and infrastructure development, illegal hunting and trade, human-wildlife conflict, and others. With species such as Sun Bears, Sunda Pangolins, hornbills and many others being targeted by opportunistic and professional poachers and traders, continued and unregulated exploitation can drive many species closer to the brink of extinction. Just last week, Indonesian authorities arrested a German national for attempting to smuggle eight Earless Monitor Lizards acquired from Pontianak in West Kalimantan out of the Soekarno-Hatta Airport in Jakarta. 
TRAFFIC has on ongoing programme working on a number of Bornean conservation issues that aims to improve wildlife trade management and regulation. 
"While there isn't a one-size fits-all remedy for ending wildlife crime, learning from others' experience often provides the much needed boost to devising new and innovative strategies," said Kanitha Krishnasamy, Senior Programme Manager for TRAFFIC in Southeast Asia. 
"This Conference was an excellent forum to do just that—allowing governments, conservation and welfare organizations, private sector, media and other communicators, as well as members of the public, to come together and share knowledge and ideas for a better Asia," Krishnasamy added. 
A number of other key events occurred during the Conference, including the handover of seven original water colour paintings by the honorary curator of mammals for the Sarawak Museum, Datuk Sri Lord Cranbrook, to the Sarawak Museum. The paintings were 1960s originals by Commander A.M. Hughes, a serving officer of the Royal British Navy, first published in 1987 in the Riches of the Wild: Land Mammals of South-East Asia (Images of Asia) by Lord Cranbrook. 
"Our aim was for the conference to serve as a platform for all who work on animal welfare and wildlife management to share their knowledge, experience and learning to benefit animals in Asia. We believe that we have achieved this and more," said Rebecca D'Cruz, Organising Chair for the 2015 Asia for Animals Conference.
---