Travellers advised not to buy trouble while on holiday
Kuala Lumpur, Malaysia, 24th September 2014 – Thousands of holidaymakers at Southeast Asia's largest travel and tourism fair earlier this month secured not just great deals, but also important advice – don't ruin your holiday by getting caught with a souvenir made from wildlife parts.
---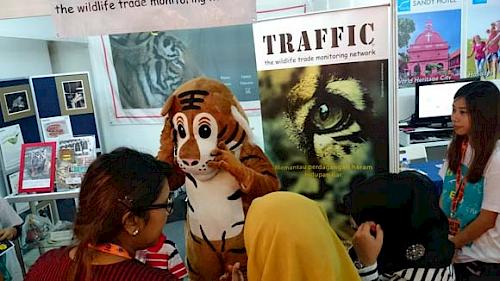 Through its booth at the bi-annual fair, TRAFFIC reached out and educated travellers about the impacts and penalties of buying souvenirs made from protected and endangered species.
The fair, organised by the Malaysian Association of Tour and Travel Agents (MATTA) saw 82,000 people converge at the Putra World Trade Centre in the capital city over a three-day period in search of holiday deals offered by 650 exhibitors. TRAFFIC was invited by the MATTA Secretariat to exhibit at the fair.
TRAFFIC handed out over a thousand luggage labels that carried a message on responsible travel and encouraged visitors to download the Wildlife Witness App to report illegal wildlife trade throughout the region.
Visitors to the booth were also given pocket guides containing photographs of protected wildlife and their parts commonly seen in trade as well as a list of legal penalties for being in possession of items made from them. 
The printing of the luggage labels and pocket guides was made possible by grants from The Body Shop Foundation and The Body Shop Malaysia, respectively.
Travellers were told that they could have a positive impact on wildlife by saying no to items such as jewellery made from tiger teeth and claws, bags and shoes made from protected reptile skins, ivory carvings, accessories made from turtle shell or coral and medicines made from endangered wildlife or plants.
The Department of Wildlife and National Parks also allowed TRAFFIC to use a number of wildlife based souvenirs and products seized from travellers at the Kuala Lumpur International Airport as display items to help travellers recognise the problem and make better choices about their purchases while on holiday.
Tourism's role in fighting illicit trafficking, including wildlife trafficking, was highlighted in March this year  when UNESCO, the World Tourism Organization (UNWTO) and the United Nations Office on Drugs and Crime (UNODC) launched a global campaign entitled "travel, don't traffic".
Also in March this year, the threat to tourism and tourism-based development in Africa was highlighed during a panel event in which TRAFFIC participated at the ITB—the world's largest tourism fair, held in Berlin, Germany.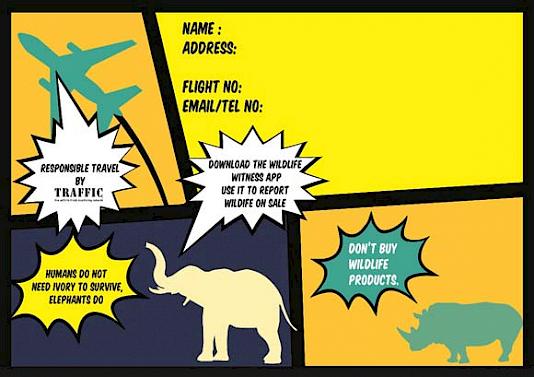 ---