USAID Supports Cycling Event on World Elephant Day to Help Stop Illegal Wildlife Trade
Yok Don National Park, Dak Lak, 12 August 2023 – The Viet Nam Cycling Federation (VCF), the Dak Lak Young Entrepreneurs Association and the Yok Don National Park joined hands for the first time to host the Viet Nam Mountain Bike (MTB) Championships 2023 to highlight the threats to elephants from the illegal wildlife trade this World Elephant Day.
---
The event was supported by the U.S Agency for International Development (USAID) through was organized under the USAID Saving Threatened Wildlife project, implemented by the Management Board for Forestry Projects (MBFP) of MARD, WWF, and TRAFFIC.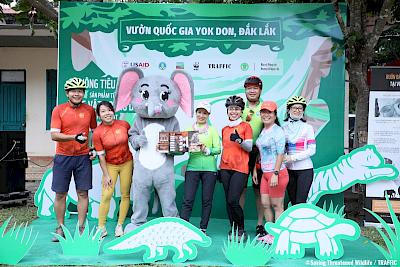 Over 200 participants, including businessmen, government officials, and partners, excitedly joined the event to show that using illegal wildlife products does not bring luck or success in business. 
Viet Nam remains a major hub for illegal transportation, trade, and consumption of threatened wild species, causing severe impacts on biodiversity. Ivory products remain the most traded wild species products in physical and online markets, alongside many other species. Most recently, at least seven tons of elephant tusks from Africa were seized in Hai Phong in March 2023, the largest such haul ever recorded in the northern port city1. The continued demand for ivory and products from other protected species drives the poaching and trading trade of animals from the wild, leading to their decline and extinction.
Surveys have shown that businessmen are prominent among consumers of products containing protected wildlife to improve their health and promote their social status and business relationships.
 "Since 2015, USAID has been helping the Government of Vietnam to identify solutions to minimize illegal wildlife trafficking. Through the USAID Saving Threatened Wildlife project, we are supporting the Government of Vietnam's request to help them enhance law enforcement, reduce demand and consumption of illegal wildlife products. The cycling event in Yok Don National Park today will help highlight the need to conserve elephants through reducing the demand for and ending consumption of elephant products," said USAID/Vietnam Deputy Mission Director Bradley Bessire.
The Viet Nam MTB Championship 2023 is held in celebration of World Elephant Day in Yok Don National Park, home to Viet Nam's largest wild elephant population. Business participants include leaders and representatives from the business community across the country.
"VCF welcomes the celebration of World Elephant Day and to witness the incredible commitment to spreading the meaningful message of a healthy and active lifestyle instead of relying on illegal products from wild species for a healthier body."
Mr Doan Kim Phu, Vice Chairman of VCF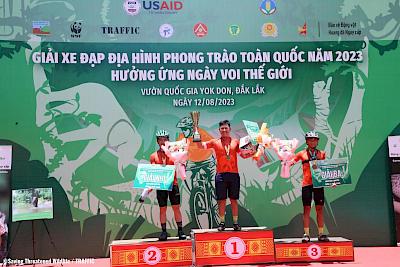 Not only attracting significant attention from the sports-loving community, the event also received firm commitments from Dak Lak Young Entrepreneurs Association: "The Championship's profound message was communicated to all Dak Lak Young Entrepreneurs Association members and received with enthusiasm. The young business community in Dak Lak is keen to stand against wildlife crime and develop a strong business community that does not accept or use products from protected wild species." – Mr Nguyen Van Huan – Vice Chairman - Dak Lak Young Entrepreneurs Association.
The Yok Don National Park event aimed to ignite social mobilization in the province while reinforcing the modern social norms to stop illegal wild species consumption. The event adds to efforts to raise awareness and support for stopping the sale of illegal wildlife products and to implement a city-wide "Say no to illegal wildlife products" campaign in Buon Ma Thuot City, Dak Lak province.
"The National Mountain Bike Championships 2023, organized on World Elephant Day 12 August will bring a great impact to part of the society on wildlife conservation, and especially ivory. This also demonstrates the responsibilities of the Government, the enterprises, and the community to international commitments.", said Mr Do Quang Tung – Chief of MBFP/MARD.
---
Notes:
¹ 7 tonnes of ivory seized in Hai Phong.
The US Government is collaborating with the Government of Viet Nam and local organisations to combat illegal wildlife trafficking in and through Viet Nam. 
The USAID Saving Threatened Wildlife project, implemented under the Ministry of Agriculture of Rural Development (MARD) by WWF, TRAFFIC, and ENV, supports efforts to counter wildlife trafficking (CWT). To learn more about the project, visit: https://www.usaid.gov/vietnam/documents/usaid-saving-threatened-wildlife 
---
About USAID

The United States Agency for International Development (USAID) is responsible for the majority of overseas development assistance from the United States Government and works to end extreme poverty and promote resilient, democratic societies while advancing security and prosperity for America and the world. www.usaid.gov/
About VN Management Board for Forestry Project
The Management Board for Forestry Projects (MBFP) is a public non-business unit under the Ministry of Agriculture and Rural Development (MARD). As the owner of ODA/concessional loan-funded programs/projects, MBFP directly manages or jointly implements these programs/projects in forestry and rural development nationwide. 
MBFP Website