New app to build awareness and information on illegal wildlife trade in South-East Asia
Kuala Lumpur, Malaysia, 9th April 2014—From bear paw soup to pangolin scales, people can now report suspected illegal wildlife trade in South-East Asia using a smartphone app developed by the Taronga Conservation Society Australia in partnership with TRAFFIC.
---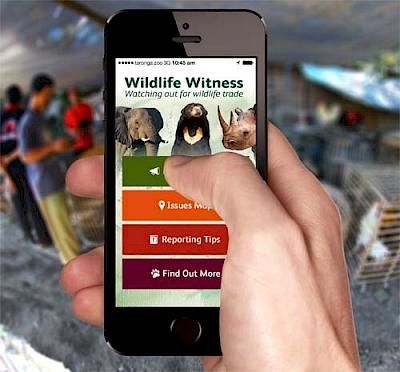 The 'Wildlife Witness' app enables users to report suspected illegal wildlife in trade in the region easily and quickly by taking a photo, pinning the exact location of an incident and sending these important details to TRAFFIC.
Reports by app users will be analysed by a Wildlife Crime Data Analyst and over time, the information will help build data and enrich understanding of illegal wildlife trade across the region, help prioritise response action and highlight areas in need of increased enforcement resources.
Wildlife Witness will also feature information on species threatened by trade, how they are often traded, as well as tips for reporting wildlife crime safely.
 
Its current focus is the South-East Asian region which serves as source, consumer and transit hub in both the legal and illegal trade of wildlife. 
It is hoped app users will include the growing number of tourists to South-East Asia as well as the region's own smartphone users and over time will expand on what is known about illegal trade here.
"With just a few taps on their smartphones, users can do two important things—learn how their purchasing decisions influence the illegal trade that threatens wildlife and contribute reports that will help build a more informed picture of this threat," said Chris R. Shepherd, TRAFFIC's Regional Director-South-East Asia.
"Being aware, and ensuring you are not supporting the illegal trade in wildlife is essential if people are to be part of the solution rather than part of the problem," he added.
"Wildlife Witness is the first global community action tool to tackle illegal wildlife trade. The app makes reporting these activities simple for both tourists and locals and will help give TRAFFIC the information they need to help address this global wildlife crisis," said Taronga Community Conservation Manager, Dr Kira Husher.
The Wildlife Witness app was developed with funds from the Vodafone Foundation's App Aid competition. The app has been developed for both iPhone and Android devices.  
Wildlife Witness is now free to download from the App Store. It is expected to be available for Android smartphones in the near future.
Download at: itunes.apple.com/us/app/wildlife-witness/id738897823?mt=8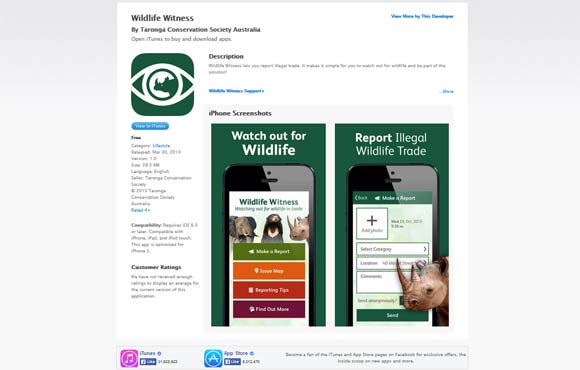 ---