Sustainable plant harvesting as straightforward as ABCD
Bac Kan, Viet Nam, 1st December 2015—More than 50 local Forest Protection Department (FPD) staff, forestry officers and village heads in Ngan Son, Na Ri, Cho Don and Ba Be Districts of Bac Kan Province received training in Asset-Based Community Development (ABCD) this month. 
---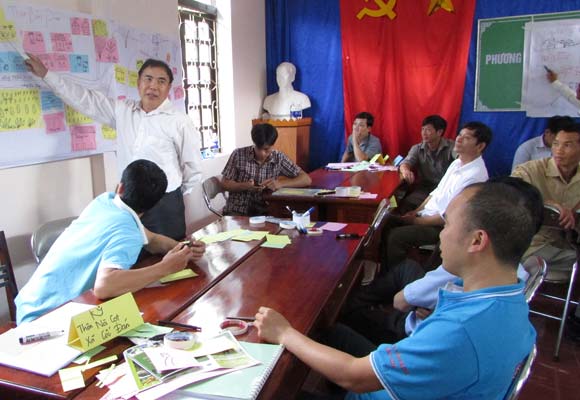 The two four-day training sessions, held November 17th to 20th in Ngan Son and November 24th to 27th in Ba Be, will improve the implementation of community development projects in nine local communes based on the sustainable harvesting of wild medicinal and aromatic plants (MAPs).
Thanks to the training sessions conducted by the Vietnamese conservation NGO GreenViet, local officers and village heads are now able to apply ABCD, an innovative development strategy focusing on identifying and mobilizing existing community assets, in their local project sites. This strategy will allow community members to create and take advantage of new economic opportunities without being dependent on outside organizations.
The beneficiary communities are part of a project started by TRAFFIC and the Bac Kan Forest Protection Department (FPD) in 2011 to improve livelihoods and conserve biodiversity by using sustainable wild plant harvesting techniques. The project, initially funded by the Critical Ecosystems Partnership Fund (CEPF) and further by the Keidanren Nature Conservation Fund (KNCF), has already provided training, tools and connections for local collectors, equipping them to harvest medicinal plants sustainably and ensuring a premium-paying market for their goods. One of the project's ultimate goals is for the semi-processed products to be the first in Viet Nam to meet FairWild certification, an internationally-recognized standard for legal and sustainable sourcing and benefit sharing from wild plant resources. 
This month's trainings mark the start of a new phase of the TRAFFIC and Bac Kan FPD project, launched at the beginning of October this year and funded by the Darwin Initiative. Continuing to build on the work started in 2011, the first objective of this three-year project was to enhance the collecting cooperatives' capacity in the project sites. 
The interactive trainings provided opportunities for the participants to uncover and understand the strengths and assets already existing in their communities. Local assets, categorized as individuals, associations, institutions, physical, financial and cultural assets and connections, were reviewed and analysed in relation to MAPs conservation and livelihood development efforts. 
"What's new and exciting about ABCD is that the participants begin to use what is already in the community. It's the combination of these assets, regional development trends and community expectations and goals that creates new development opportunities. The local communities will be very involved in creating and implementing their village or community development plan, actively mobilizing their assets toward sustainable development," said Mai Nguyen, Programme Officer for TRAFFIC in Viet Nam. 
Using connections and opportunities created by the ABCD model, local collectors will be able to build collecting co-operatives, mobilize their own assets to practice sustainable harvesting techniques, and improve their processing skills. Additionally, they will be able to improve their market access by building stronger relationships with pharmaceutical and cosmetic companies.  
"We were surprised about our own assets when we identified what we already have. I strongly believe that we can apply this methodology effectively, not only in the project but also in the efforts to protect natural resources," said Mr. Hoang Van Hai, Director of Bac Kan FPD.
Though the ABCD model was developed in the 1990s at Northwestern University, it has only been applied in Viet Nam in recent years. GreenViet has successfully used ABCD to help protect the Red-shanked Duoc, complementing their awareness-raising efforts about the importance of this threatened species in Da Nang. Using their experience as a guide, GreenViet led the training sessions for the MAP project implementers in Bac Kan. 
"The ABCD model changes the role of governments and non-profits from 'fixers' to 'facilitators.' 'Fixers' focus on providing answers, but 'facilitators' ask questions. Questions create opportunities for community members to identify and address their own challenges using the personnel resources, knowledge, institutions, culture and skills they already possess," said Dr. Ha Thang Long, Founder of GreenViet, one of the facilitators at the trainings. 
"With all the conservation success we've seen in the communities where we have applied the ABCD model, we are excited to see how the medicinal plant collectors in Bac Kan will benefit."
Next month, the Bac Kan FPD and TRAFFIC will begin applying the ABCD methodology through on-the-ground activities in project sites, where it will allow more effective and efficient project implementation over the next two and a half years of the project. 
---