KCNC pays medicinal plant project site in Viet Nam a visit
Viet Nam, 1st December 2013—A 16-person delegation from Japan's Keidanren Committee on Nature Conservation (KCNC) have undertaken a field visit to a TRAFFIC community-based project in northern Viet Nam, to see for themselves how local people are directly benefitting from the application of sustainable harvesting and equitable trade principles to wild plant harvesting. 
---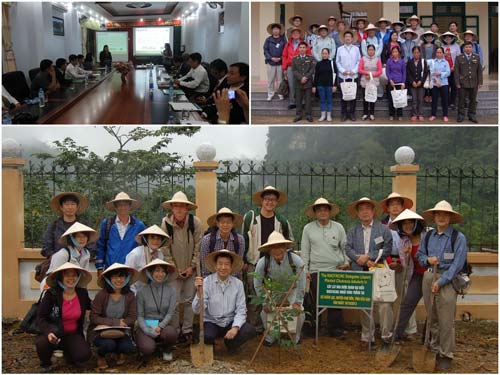 Each year KCNC arranges a visit for representatives from Japanese donor corporations to selected project sites in Asia, to enable participants to gain a better understanding of how their generosity is supporting on-the-ground conservation initiatives. 
"It happens that most of our previous missions visited projects which focused primarily on protecting nature, for example through conservation of rare species and restoration of species habitats", said Mr Kuniyasu Matsumoto, the Deputy Executive Director of KCNC.
"However, this year we wanted to bring human livelihoods into focus. We wanted to learn how NGOs work together with local communities to address complex conservation issues that are tightly linked to livelihood issues." 
KCNC is a funding body run by Japan's Business Federation, Keidanren, and currently supports the TRAFFIC-led project on sustainable harvesting of wild medicinal and aromatic plants (MAPs) in Nam Xuan Lac Species and Habitat Conservation Area, Cho Don District, Bac Kan Province, northern Viet Nam through its biodiversity conservation fund, Keidanren Nature Conservation Fund (KNCF). 
TRAFFIC's project site was chosen for the visit because of its unique approach in applying sustainable harvesting and equitable trade principles as a means to improve the livelihoods of ethnic minority collectors whose income heavily rely on forest resources, particularly MAPs.
"Japan has lost much of its nature and unique biodiversity in the rush for industrial development," said Mr Masatoshi Sato, Chairman of KCNC. 
"We consider that it is now our role to support conservation efforts in other Asian countries so that places like Bac Kan can take a different course of development that is sustainable and in harmony with nature." 
The 1,788 ha Nam Xuan Lac Species and Habitat Conservation Area (NXLSHCA) was established in 2004 and the majority of people living in the area are from the Tay, Nung, Dao, and H'Mong ethnic minority groups that traditionally inhabit Viet Nam's impoverished northern mountainous provinces. Nearly all communities close to the project site have a significant reliance on forest-based natural resources for their livelihoods, which typically include timber harvesting, hunting for bushmeat, forest clearance for agriculture, and the collection of non-timber forest products—including MAPs.
The reserve acts as an important ecological corridor between Na Hang Nature Reserve and Ba Be National Park and is known for its high biodiversity value. The habitat is typical of northern limestone (karst) mountain ecosystems and home to many wild animals and plants, including 12 globally threatened species. A resource assessment carried out by TRAFFIC in 2011 identified 328 MAP species in the project area. Many of them are at risk due to unsustainable harvesting by local villagers and high demand from markets. 
During the KCNC visit, TRAFFIC staff were able to demonstrate how close collaboration with various local stakeholders at the grass-root level was leading towards the shared goal of empowering local communities in terms of management of their MAP resources and in increasing their income.
This is being achieved through application of the FairWild Principles and Standards to establish sustainable wild-harvesting collection practices right through to introducing a fair and equitable benefit-sharing mechanism along the entire trade chain. 
The multi-year project has made significant progress working with local collectors from seven villages in Xuan Lac and Ban Thi Communes. Previously the project received funding from the Critical Ecosystem Partnership Fund (CEPF), between June 2011 and July 2013. 
During the visit, KCNC delegates met project partners from the Bac Kan Forest Protection Department (FPD) and Bac Kan Traditional Medicine Association (TMA). 
Mr Hoang Van Hai, Director of Bac Kan FPD and Chairman of Nam Xuan Lac Species and Habitat Conservation Area, welcomed the KCNC delegates and emphasized that the richness of Bac Kan's forest resources and biodiversity are important to the economy and health of the region's people. He highlighted the impact that TRAFFIC's project has already started to make on-the-ground. 
The KCNC mission also visited Ms Phung Thi Dung, one of the Tay collectors, who has been involved in the project since its inception and who demonstrated the use of drying equipment provided by TRAFFIC, which enables local collectors to dry their produce and hence increase its retail value. TRAFFIC is also helping investigate other "value adding" opportunities to benefit local collectors along the trade chain, including for Alpinia and Amomum species. 
In Bang Lung Town, the delegates met Mr Trung, a representative of a trader group that purchases produce from the Xuan Lac area for both domestic trade and export to China. Mr Trung spoke of his support for improving the livelihoods of local collectors, and how if the produce became FairWild certified, it could expand his trade options and potentially allow access to new buyers. 
They also learned that local collectors, primarily individuals from ethnic minority groups, are the main source of MAP products traded in Viet Nam, and that almost all the produce is exported for processing before returning to wholesalers and retail outlets in the country. 
"Domestic pharmaceutical manufacturers are interested in high quality, sustainably-sourced wild-harvested products", said Mai Nguyen, Forest Trade Officer with TRAFFIC's Greater Mekong Programme. 
"Our aim is to create a model of sustainable harvest and fair trading through applying the FairWild principles that will ultimately empower local communities so that they will be able to benefit fully from managing their own resources and establishing fair trade relationships." 
KNCF's support has been hugely important to TRAFFIC's work on the medicinal and aromatic plant trade. In 2013-2014, KNCF is supporting three FairWild projects; in Viet Nam, India and Japan. 
In the North-Western Ghats region of India, a project with local partners the Applied Environmental Research Foundation (AERF), is examining implementation of the FairWild Standard and certification for two kinds of fruit. The project links collecting communities with a UK manufacturing company. 
In Japan, TRAFFIC is developing a strategy for increasing the uptake of FairWild certification by industry. KNCF has been a long-term supporter of TRAFFIC's work in Japan, including supporting industry visits to India and creating greater awareness of issues around sustainability of harvesting and livelihoods at CBD CoP10 (in Nagoya, Japan). 
Tomomi Matsumoto, TRAFFIC in Japan 
Mai Nguyen, TRAFFIC in the Greater Mekong
---