Centre for Women and Development and businesswomen take lead on corporate responsibility and wildlife protection
Viet Nam, December 2015—More than 40 leading Vietnamese businesswomen and staff of the Vietnam Women's Union (VWU) and the Centre for Women and Development (CWD) pledged to promote environmental and social responsibility in business, particularly through adopting a zero tolerance towards endangered wildlife consumption. Using what they learned in the corporate responsibility workshop held by CWD and TRAFFIC, these women will lead a growing trend for wildlife protection among Viet Nam's business community. 
---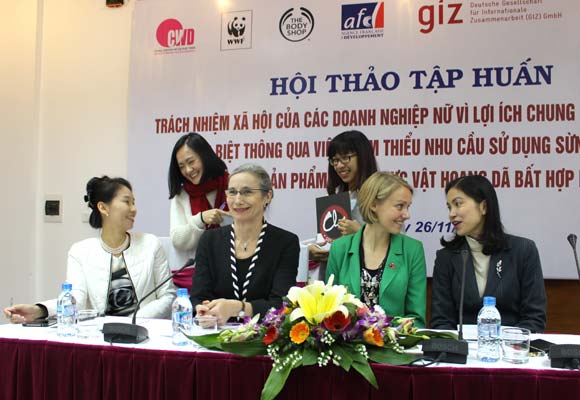 The workshop introduced the concept of corporate social responsibility (CSR), or business management for social benefit. Special guest speakers Ms Nienke Trooste, Ambassador of the Kingdom of the Netherlands, stressed the high demand for CSR in the global economy and the benefits CSR can bring to both business and society, while Ms Molly Fong, Director for The BodyShop in Viet Nam and Malaysia, provided examples of how private companies can promote public good. 
"The BodyShop's work is guided by corporate social responsibility, which has inspired our many values-driven activities. The BodyShop founder and human rights advocate, Dame Anita Roddick, established our business philosophy: 'The business of business should not just be about money, it should be about responsibility. It should be about public good, not private greed,'" said Ms Molly Fong. 
Ms Nguyen Thuy Hien, Vice Director of CWD, provided further examples of CSR, sharing the experiences of the CWD in promoting gender equality, especially by supporting corporate women and small women-owned businesses. She emphasized the importance of sharing information about CSR in the Vietnam Women Corporate Association network to promote sustainable development and policies supporting enterprises to conduct social policies. 
The women participating in the workshop learned not only how to incorporate wildlife protection into their own corporate social responsibility practices, but also how to create a ripple effect in the business community by spreading these lessons and the message of "zero-tolerance towards endangered wildlife consumption."
The day ended with a gala dinner to recognize and celebrate the important role that women can play in protecting wildlife.
"Women are increasingly in positions of influence in business enterprises across Viet Nam, and they have the power to be major forces for positive change. By adopting and promoting a zero-tolerance of endangered wildlife consumption, women play a key role as part of the business community to lead the country in efforts to protect wildlife and boost Viet Nam's reputation for environmental responsibility," said Ms Madelon Willemsen, Head of TRAFFIC's Viet Nam Office.
---