Panda landscape project on sustainable use of wild medicinal plants wins Equator Prize
China, 16th May 2012—A project to promote sustainable harvesting of wild medicinal plants in the mountains of China's Upper Yangtze ecoregion has won the prestigious Equator Prize 2012. 
---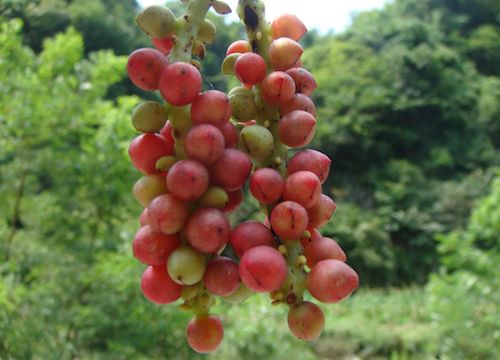 The Equator Prize recognizes outstanding local initiatives working to advance sustainable development solutions for people, nature and resilient communities in countries receiving support from the United Nations Development Programme (UNDP). 
It is the second time the success of the project has been publicly acknowledged; in October 2011, the project received an "Outstanding Contribution Award" from the Chinese State Ministry of Environmental Protection, EU-China Biodiversity Programme (ECBP), Ministry of Commerce and the United Nations Development Programme (UNDP).
Over-harvesting of wild medicinal plant species is a serious conservation concern—aside from problems caused by the harvesting itself, the collectors can also have serious secondary impacts through camping within reserves, hunting and gathering fuel-wood to dry commercial quantities of medicinal plants. Such habitat destruction and disturbance also threatens endangered wildlife, including the Giant Panda Ailuropoda melanoleuca and the Takin Budorcas taxicolor. 
The collection of medicinal plants in the Upper Yangtze is rising, with households compensating for loss of income from farming and timber logging due to the promulgation of two policies: a 1998 logging ban and a "Grain for Green" programme, introduced in 2000, which discourages farming on steep slopes.
To help alleviate matters, an initiative was developed through a comprehensive collaboration between WWF, IUCN and TRAFFIC as part of the EU-China Biodiversity Programme (ECBP), which led to local producer association members, harvesters and governmental officials receiving training in the implementation of organic wild crop harvesting practices and certification procedures, as well as application of the FairWild Standard principles. 
"We are delighted to see public recognition of the success of this initiative, which has demonstrated how sustainable harvesting of wild plant resources creates positive benefits for local livelihoods and conservation efforts," said Anastasiya Timoshyna, TRAFFIC's Medicinal Plant Programme Leader.
Income for local producers in the project areas has increased, thanks to higher prices paid for certified sustainably harvested medicinal and aromatic plants. In the case of Schisandra berries Schisandra sphenanthera, international and local buyers paid at least 30% above normal market prices for certified produce. A survey of project sites in March 2011 found incomes from medicinal plant collection had risen, thanks to the certification schemes; in one village by almost 18% over 2007 levels. 
The project also led to the establishment of links between producer associations and buyer groups: two communities have signed purchase agreements with a local winery and the newly established Shuijing Traditional Chinese Medicine (TCM) Cooperative has signed a 5-year fair trade agreement with a Californian company for supply of sustainably harvested Schisandra fruits. 
In 2010, more than 5 tonnes (dry weight) of Schisandra fruits were sustainably harvested of which more than 3 tonnes were sold to Draco Natural Products (DNP Shanghai) for production of a concentrated dry extract specified by US-based Traditional Medicinals Inc (TMI). The project has scaled up from one village in the 2008 and 2009 harvests up to 22 villages in the 2011 harvest. From the autumn 2011 harvest, about 11.5 tonnes were shipped to DNP, enough to produce about 1.2 tonnes of certified organic dried extract for use in TMI products. 
Further development of the project, supported through the Kangmei Institute of Community Development and Marketing has seen further adoption of sustainable harvesting methods in the region, and communities working through international partnerships to promote a 'giant panda friendly' brand and to create panda friendly certification standards for local harvesters. 
"This project is proving that local harvesters from villages surrounding the Giant Panda conservation area can successfully implement meaningful sustainability standards," said Josef Brinckmann, VP of Sustainability for TMI.
"The Schisandra harvesters are helping to protect the panda bear habitat from disturbance while working to conserve biodiversity and earning additional household income through an organic and fair price premium.
"Traditional Medicinals remains committed to a long-term equitable trade relationship with the 22 participating villages represented by the Shuijing TCM Cooperative. 
"Schisandra is only the first success story. As other wild medicinal plant species are added to the cooperative's sustainable wild harvesting management plan, with eventual certified organic and panda friendly designations, household income will increase as a result of empowering and rewarding local communities for the important work of nature conservation."
---