Tiger and other cat parts seized in Thailand
Bangkok, Thailand, 16th May 2012—Thai police have seized the carcasses of two Tigers, a Leopard and a Golden Cat from a house in Khan Na Yao, in Bangkok today.
---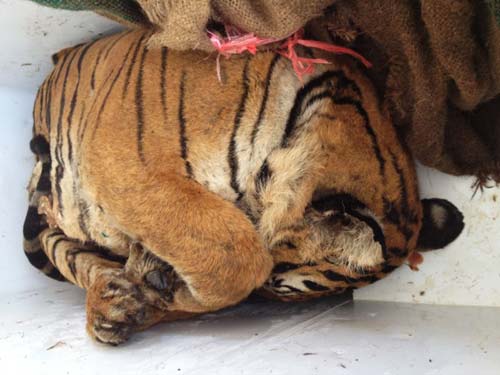 Officers from the Crime Suppression Division and the Natural Resources and Environmental Crime Suppression Division of the Royal Thai Police have arrested a Thai man and a Vietnamese man in connection with the crime. All three species are protected in Thailand, and are all listed in Appendix I of the Convention on International Trade in Endangered Species of Wild Fauna and Flora (CITES).
The animals, found chopped up and stuffed into a freezer in the house, were believed to have been sourced from Malaysia and moved through Sadao, a district in the southern Thai province of Songkla, which shares a border with Malaysia.
Initial investigations have shown the animals were bound for China via Nong Khai, a town near the border between Thailand and Lao PDR. 
From Nong Khai, the animals were to be transported across the Mekong River to Lao PDR before being moved to China.
Police said the suspects were paid 8,000 Baht (USD250) to transport the animals from the south of Thailand to Bangkok.
The seized animals have been handed over to the Wildlife First Aid Clinic where samples will be taken for DNA analysis.
"Any DNA analysis should be undertaken with an eye toward establishing the origins of these animals. Going forward, it will be important to know exactly where they came from." noted TRAFFIC Southeast Asia Regional Director, Dr. William Schaedla.
"We also hope the Thai authorities will undertake a thorough investigation of the transport routes being utilized by the smugglers and co-ordinate with their counterparts in neighboring countries. Simply seizing dead animals will not be enough to prevent future losses of tigers and other endangered animals to wildlife trafficking."
---