Medicinal plants programme receives prestigious award
October 2011—A joint WWF, TRAFFIC and IUCN project on sustainable use of medicinal plants in China's Upper Yangtze Ecoregion has received an "Outstanding Contribution Award" from the Chinese State Ministry of Environmental Protection, EU-China Biodiversity Programme (ECBP), Ministry of Commerce and the United Nations Development Programme (UNDP).
---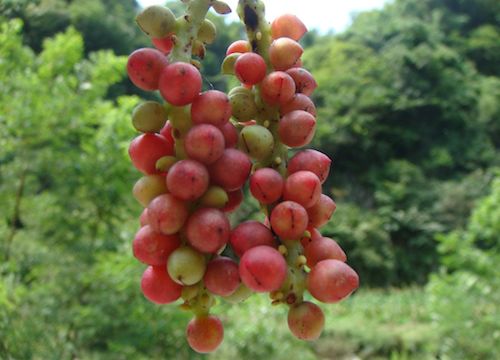 The WWF-led project, Sustainable Management of Traditional Medicinal Plants in High-biodiversity Landscapes of Upper Yangtze Ecoregion, is part of the ECBP, funded by the European Union (EU).
Launched in 2007 in Sichuan, Gansu and Shaanxi Provinces, the project introduced local plant producers to the skills needed for sustainable harvesting of wild traditional Chinese medicinal plants, including trade links to international markets.
A demonstration project in Sichuan showcased how sustainable collection of wild medicinal plants, with close reference to FairWild Standards developed through co-operation between WWF, IUCN, TRAFFIC, the FairWild Foundation and other partners, could be linked to sale of the products to enhance their marketability. 
In Ningshan County, Shaanxi Province, the Qinlin Changchun Winery has purchased sustainably collected southern Schisandra fruits (Schisandra sphenanthera) to make wine since 2008, while in 2009, a local community TCM Co-operative in Pingwu County of Sichuan Province signed a contract to supply 500 kg of sustainably sourced Schisandra fruits to a US-based company. It was the first Chinese example of an agreement to supply sustainably sourced medicinal plants of export quality to an international buyer. 
Since then, the demand for sustainably sourced plant produce has continued to grow, with several tonnes ordered in 2010 and 2011, and a five-year agreement was signed to supply products from the local Co-operative in China's Sichuan Province. 
The marketability of "panda-friendly" medicinal plant products, sustainably harvested ensuring protection of Giant Panda habitats in China was also explored, an initiative that originated in 2004 thanks to WWF-Germany's support for research by TRAFFIC and WWF into the trade. 
"The Outstanding Contribution Award demonstrates how TRAFFIC's joint project with WWF and partners to promote sustainability in the supply of medicinal plant products in China is a practical example of how sustainability guidelines linked to ethical markets really can bear fruit," said Jianbin Shi, Head of TRAFFIC's programme in China.
In the past 18 months, experience gained from the China project's efforts to link buyers with sustainable producers of medicinal plants has been further extended by TRAFFIC to engage end-user markets in Japan as well as producer groups in India.
---