Major haul of Indian Red Sanders in Malaysia
Petaling Jaya, Malaysia, 23rd July 2020—The Royal Malaysian Customs has seized eight tonnes of Red Sanders logs, the country's second known seizure of the valuable timber species that is native to southern India.
---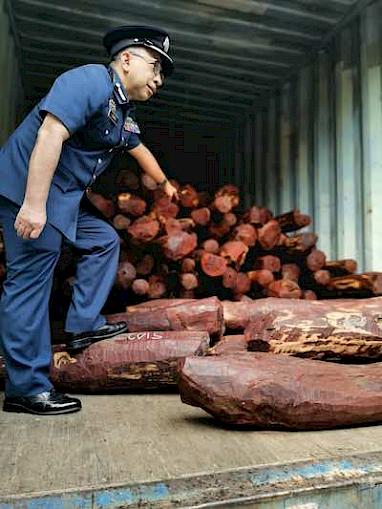 The Fraud Investigation Unit and Narcotics Branch of Customs made the seizure of the 283 logs following a tip off that led to the inspection of a container falsely declared as containing car parts.
The illegal consignment was a direct import from India to Malaysia said Customs Deputy Director for Enforcement and Compliance, Dato' Haji Johari Alifiah at a press conference today.
The heartwood of Red Sanders Pterocarpus santalinus is in demand for use in furniture making, in the treatment of diabetes and to reduce inflammation. In India, the timber is also a source of red dye. 
India prohibits the export Red Sanders (also known as Red Sandalwood), except under special circumstances. The species is listed in Appendix II of the Convention on International Trade in Endangered Species of Wild Fauna and Flora (CITES), which allows international commercial trade under strict regulations.
Johari said the container carrying the logs arrived at Port Klang on 8th July without several key documents. This included an import declaration, an export permit required for CITES Appendix II-listed species, and an import permit from the Malaysian Timber Industry Board required for items listed under the Third Schedule of the Customs (Prohibition of Imports) Order 2017.
The container was inspected and seized nine days later. No arrests have been made but Johari said in his statement that the importer was being investigated and the syndicate believed to be behind the smuggling was being pursued. 
The seizure follows a larger one in Tanjung Pelepas Port in January. In that case Customs officers at the port discovered 453 Red Sanders logs weighing 15.2 tonnes in a consignment of quartz stones. 
Malaysia has previously been implicated in dozens of Red Sanders trafficking cases involving at least 142,620 kg of this species seized in Malaysia and elsewhere around the world from 2013 to 2019. 
TRAFFIC congratulates Royal Malaysian Customs on stamping down on the illicit Red Sanders trade. We hope to see investigations result in arrests and prosecutions. We also urge Malaysian Customs to work closely with their counterparts in India to uncover the network driving the trafficking of this species between the two countries
Elizabeth John, Senior Communications Officer, TRAFFIC
---