Logistics companies learn how to avoid transporting illegal wildlife goods
Pingxiang, China, 8th July 2013—More than 60 logistics companies from Pingxiang city in Guangxi Province, China, have learned about the potential risks of being drawn into transportation of illegal wildlife goods during a meeting with the Guangxi Provincial Inter-agency CITES Enforcement Coordination Group (PICE-CG) and TRAFFIC. 
---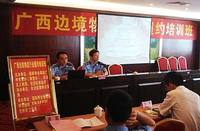 Experts and officials from across Guangxi PICE-CG, including Nanning Customs, Border Police, the Industry and Commerce Department, the Forest Conservation Department, the Security Department, Forest Police and Guangxi's Anti-smuggling Office addressed representatives from the logistic companies.
Their advice to the industry covered topics ranging from international trade regulations under CITES (the Convention on International Trade in Endangered Species of Wild Fauna and Flora) and national laws, through to identification of illegal wildlife products and examples of wildlife smuggling cases. 
Ziming Wan, Director of the Enforcement and Training Division of China's CITES Management Authority spoke about CITES regulations and emphasized the government's firm stance against wildlife trafficking.
"The Chinese government is paying great attention to the issue of wildlife trafficking and any companies found to be involved will face severe punishment," said Wan.
Tianyou Li, Director of Guangxi Forest Police's Crime and Investigation Division, warned companies not to become embroiled in illegal wildlife trade. 
"Any companies found to be involved in the illegal wildlife trade will be fined or even closed down and the owner sentenced to prison in serious cases," said Li. 
There was positive feedback from the companies taking part, some of whom run businesses close to the Chinese border. 
"The training was helpful and I will go back and spread the knowledge and messages to my staff," said Rongfeng Wei, Head of the Congzuo Branch of SF-EXPRESS, a leading domestic carrier in China.
"We are willing to report to and collaborate with enforcement agencies whenever we find anything suspicious."
As noted during the discussions, Pingxiang city, close to the border with Viet Nam, is the largest land crossing point between the two nations. Cargos from across South-East Asia pass through it, en route to Guangxi province and elsewhere in China, and with such a high volume of cargo being handled there, a proportion will inevitably include some illegal wildlife products. In a single case in 2011, 707 elephant tusks transported by Lulutong, a local logistics company, were seized by border police. 
Nowadays, smugglers tend to use logistic companies because of their convenience and cost efficiency and as a means to throw law enforcement officers off the scent. Owing to fierce competition for business, however, most logistics companies do not check the items and senders' identity carefully, even though legally required to do so. This allows smugglers easily to avoid prosecution even if their goods are seized, while the huge volumes of cargo involved means enforcement agencies cannot take effective action without specific intelligence. 
Furthermore, intensive enforcement action in physical markets has resulted in illegal wildlife trading shifting increasingly online, with logistics companies being used to ferry the goods once purchased. The companies also face a greater challenge in identifying illegal products with the recent inclusion of seven rosewood species in Appendix II of CITES. Pingxiang is one of key entry points for timber into China. 
"Owing to Pingxiang's strategic location and role in international trade, it is crucial that we proactively approach logistics companies in the city," said Dr Jianbin Shi, Head of TRAFFIC China programme.
"The workshop not only equips the companies with essential knowledge on how to stop the movement of illegal wildlife products, it also reminds them of the serious consequences if they fail to do so."
TRAFFIC has spent several years addressing the transportation of illegal wildlife products with the logistics sector and has run similar training workshops at the national level and provincial level, in Yunnan in August 2011. 
TRAFFIC's work with the logistics industry in Guangxi Province is generously supported by WWF Germany.
---