Consumer campaign marketing FairWild product wins sustainability award
London, UK, 11th July 2013—A consumer campaign promoting the first product with FairWild-certified ingredients on the UK market, Pukka Herbs' peppermint and licorice tea, has won the inaugural 2degrees Sustainability Champions Awards. 
---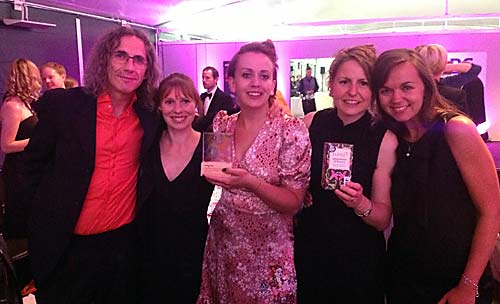 Pukka Herbs picked up the External Communications category award for their "Create a Beautiful World" campaign launched almost 12 months ago, in recognition of their dedication to ethical and sustainable business practices. 
The campaign beat off stiff competition and won the award for work carried out jointly with WWF UK and the FairWild Foundation to raise funds and awareness for conservation projects around the globe.
"Through our 'Create a Beautiful World' campaign and our 20p donation [to WWF] from each pack of our special Peppermint & Licorice tea we were delighted to have successfully beaten our GBP50,000 fund raising target earlier this year. To win an award for this work is the icing on the cake!" said Tim Westwell, Co Founder of Pukka Herbs. 
The Peppermint & FairWild certified Licorice tea was first on sale in the UK, but has now been launched in Germany, Japan and beyond. It contains licorice root from the species Glycyrrhiza uralensis, harvested from the wild in Kazakhstan.
TRAFFIC is a partner to the FairWild Foundation and alongside WWF and other FairWild Foundation partners helped develop the FairWild Standard to ensure those collecting wild plant ingredients harvest the produce sustainably and receive a premium price for their efforts.
"Pukka Herbs' winning of this Sustainability Champions Award will help generate greater industry awareness about the importance of sustainability in the collection of wild plants and for ensuring that trade is fair, benefiting collectors," said Anastasiya Timoshyna, TRAFFIC's Medicinal Plants Programme Leader, who attended the awards ceremony on behalf of TRAFFIC and the FairWild Foundation. 
"We congratulate Pukka Herbs for creating such awareness through their marketing of a FairWild-certified product, and hope more companies will follow their lead in embracing the FairWild brand." 
There is increasing recognition of the value of FairWild certification within the private sector while the FairWild Standard that underpins it is proving useful as a tool to help government policy-makers, for example to realize their commitments under the Convention on Biological Diversity (CBD).
---