Transport companies in China urged to be on the lookout for illegal wildlife trade
Beijing, China, 17th April 2012—Representatives from logistical and transport companies, including airlines, delivery and postal services, met last week in Beijing to examine ways to counter wildlife trafficking. 
---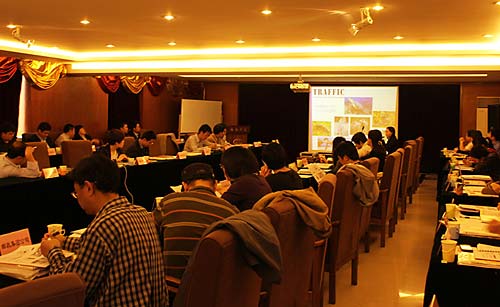 The meeting on control of trafficking in endangered wildlife products was co-hosted by China's CITES (Convention on International Trade in Endangered Species of Wild Fauna and Flora) Management Authority, Ministry of Transportation, Ministry of Railways, State Civil Aviation Administration and State Post Administration.
More than 60 representatives from relevant government agencies—including the State Forestry Administration, Ministry of Agriculture, General Customs, Industrial and Commerce Administration, Supreme People's Court, Supreme People's Procuratorate, Ministry of Transportation, Ministry of Railways, and Inspection and Quarantine Bureau—and from associations and international and domestic logistics companies such as China's Air Transport Association, China's Express Association, Fedex, SF-express, AIR China, CEAIR, plus representatives from two non-governmental organizations (NGOs)—TRAFFIC and IFAW—attended the workshop.
Mr Zhou Yafei, Deputy Director-General of China's CITES Management Authority, stressed the seriousness of illegal wildlife trade and the importance of collaborating with the logistics and transport sectors to combat wildlife trafficking. 
"Illegal trade in wildlife is not only an environmental problem, but also a security and political problem," said Mr Zhou. 
"Many illegal wildlife trade cases are related to logistics and transportation services, so I urge these companies to take necessary and immediate actions to cut off the trade chain to set up high-profile corporate social responsibility."
This workshop examined the status of illegal wildlife trade within and outside China and highlighted the importance of parcel scrutiny, which can provide a unique opportunity to gather intelligence into the criminal syndicates behind trafficking wildlife goods. 
The meeting stressed that logistics and transport companies should make curbing illegal wildlife trade a top priority and should regularly report all illegal activities detected to government departments. A protocol on confiscation of wildlife products should also be established. 
A representative from IATA (International Air Transport Association) asked companies to comply strictly with international live animal transportation rules and regulations. All wildlife shipments should be closely examined and their contents verified. 
TRAFFIC's Senior Programme Officer, Xu Ling, spoke about illegal wildlife trafficking in China, in particular the boom in online sales, which are dependent on logistics support for distribution of the purchased items. 
"Logistics and transport companies may unwittingly become the conduit for wildlife trafficking, so this meeting is a great opportunity to alert companies of the potential abuse of their services and what they can do to counteract it," said Dr Jianbin Shi, Head of TRAFFIC's China Programme.
Participants were unanimous that logistics and transport services have a vital role to play in curbing trafficking of endangered species, and that they would allocate resources for implementation of CITES regulations. 
Several companies expressed the intention of introducing basic training in wildlife trade regulations as part of the induction process for new employees, assisted technically with support from China's CITES Management Authority and NGOs. A number of further collaborations between meeting participants are also planned. 
The workshop was the first of its kind at the national level in China, and had support from TRAFFIC. 
A similar provincial level workshop was held in Kunming, in China's Yunnan Province, in 2011, hosted by TRAFFIC and the Kunming Branch Office of China's CITES Management Authority. 
---