South Asia steps up investigative efforts against wildlife crime and illicit trade in Tigers
New Delhi, India, 5th July 2013—Senior delegates from various enforcement and intelligence agencies of eight South Asian countries met this week to work on scaling up law enforcement action to curb the growing menace of illegal wildlife trade in the region.
---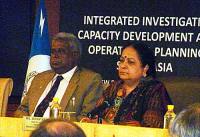 The Integrated Investigative Capacity Development and Operational Planning Meeting took place at the Headquarters of India's Central Bureau of Investigation (CBI) from 1st-5th July 2013 in New Delhi. 
Focused on promoting co-ordinated action against wildlife crime by the member countries of the South Asia Wildlife Enforcement Network (SAWEN), the event was hosted by the CBI, which houses India's INTERPOL National Central Bureau. A specialized training curriculum from INTERPOL's Environmental Crime Programme was delivered, along with input from other experts and additional technical support from TRAFFIC, the Wildlife Crime Control Bureau (WCCB) and the National Tiger Conservation Authority (NTCA). 
Illegal wildlife trade is recognized as a type of transnational organized crime, and is often a high-profit and low-risk activity. For example, TRAFFIC's 2012 report on Leopard poaching and illegal trade in India illuminated the fact that at least four Leopards are poached every week for illegal wildlife trade. The persistence of wildlife poaching and trafficking is further illustrated with more than 40 Tigers reported dead in India in the first half of 2013.
Besides driving many endangered species towards extinction, illegal wildlife trade supports criminal networks, undermines national security, and poses increasing risks to global health. Since illegal wildlife trade extends beyond national borders, regional collaboration between the SAWEN member countries (Afghanistan, Bangladesh, Bhutan, India, Maldives, Nepal, Pakistan, Sri Lanka) along with international support and connectivity is needed to address wildlife crime. 
Against this background, this specialized capacity development and operation planning meeting identified common challenges and delegates worked on best-practice approaches collaborative action between agencies at the national and regional levels. These included intelligence-led approaches such as controlled deliveries, interrogation techniques, risk management and ethics and professionalism in building wildlife cases. 
Smt Jayanthi Natarajan, Hon'ble Minister of State (Independent Charge), Ministry of Environment and Forests who was the Chief Guest for the valediction ceremony today said: "Illegal wildlife trade is one of the most urgent threats to wildlife. It undermines the country's efforts to protect and conserve nature. To combat this, we need to have stricter enforcement of CITES. India's Wildlife Protection Act 1972 is not enough. There is a need for specific legislations to fight wildlife crime." 
"The contribution of various agencies and the support of TRAFFIC/WWF-India in strengthening law enforcement measures in India is laudable. This collaborative effort will surely help to bring regional cooperation much needed for eradicating this menace," added Smt Natarajan.  
Dr Maheshwar Dhakal, representing the SAWEN Secretariat, highlighted the need for capacity building of law enforcement agencies of SAWEN member countries through robust networking and information sharing to combat wildlife crime in the South Asia region.
 
INTERPOL's Environmental Crime Programme has a keen focus on enhancing enforcement effectiveness for the conservation of wild Tigers and other Asian big cats under Project Predator.  Development of common operational planning frameworks allowed participants to work together on building effective investigations in source, transit and end-use market locations. 
This meeting also helped to strengthen SAWEN as an institution by connecting national focal points and the SAWEN Secretariat with other government agency representatives. Officials representing a variety of enforcement agencies, including national police agencies housing INTERPOL National Central Bureaus, Customs, wildlife departments, the Directorate of Revenue Intelligence, environmental agencies and India's Wildlife Crime Control Bureau helped to bring agency jurisdictions together in a combined mandate. 
Dr Shekhar Kumar Niraj, Head of TRAFFIC in India said: "TRAFFIC is overwhelmed to see that our long-term efforts to support SAWEN are bearing fruit. Through the leadership of India in bringing all the eight nations together, these issues of critical importance for combating illegal wildlife trade and poaching have boosted SAWEN's potential as a best-practice law enforcement network." 
"A concentrated global response, and empowering the South Asian region to act, is the only way that the menace of illegal wildlife trade can be dealt with," said Dr Niraj.
Generous financial support from both the US Department of State, through a grant implemented by TRAFFIC, and USAID's support to INTERPOL's Project Predator, is acknowledged in making this landmark training event possible. 
"Strengthening SAWEN is an objective of INTERPOL's Project Predator, but support from partners such as TRAFFIC is essential for enhancing cohesion between countries in the region to improve wildlife law enforcement," said Ioana Botezatu, representing INTERPOL's Environmental Crime Programme.
---
About INTERPOL Environmental Crime Programme

•    Leads global and regional operations to dismantle the criminal networks behind environmental crime using  intelligence-driven policing;
•    Coordinates and develops international law enforcement best practice manuals, guides and other resources;
•    Provides environmental law enforcement agencies with access to our services by enhancing their links with INTERPOL National Central Bureaus;
•    Works with the Environmental Crime Committee to shape the Programme's strategy and direction.