Experts discuss EU response to global wildlife trafficking crisis
Brussels, Belgium, 16th April 2014—170 experts, including representatives from TRAFFIC, met last week to determine how the European Union can develop a more comprehensive approach to global wildlife trafficking, which has become a major and complex organized crime problem and a threat to sustainable development.
---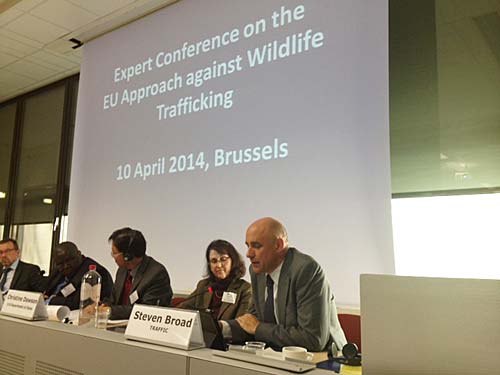 The meeting marked the end of a public consultation initiated by a European Commission Communication in February this year, which invited responses to ten key questions concerning wildlife crime. TRAFFIC was among those who submitted input to the consultation, which will help shape the EU's response to the global crisis that has witnessed a surge in wildlife trafficking in recent years, threatening the survival of some species and undermining the rule of law and sustainable development. 
Opening the meeting, Environment Commissioner Janez Potočnik, said: "The damages caused by wildlife trafficking are enormous, and the efforts we undertake to combat it effectively will have to match the gravity of the situation."
Delegates included representatives from 26 EU Member States and from key source and destination countries in Africa, Asia and the Americas as well as key organizations including EUROPOL, INTERPOL, Eurojust, World Bank, World Customs Organization, TRAFFIC and other non-governmental organizations. 
Crucially, the meeting was the first time representatives from across the full range of government authorities impacted by wildlife crime, including foreign affairs, development, environment, home affairs and justice, had come together to develop a comprehensive and wide-ranging approach to addressing wildlife crime. 
"TRAFFIC welcomes this consultation process which has helped achieve a  widespread understanding in the EU that wildlife crime is not only an issue for the environment sector," said Steven Broad, Executive Director of TRAFFIC and an invited panellist at the meeting. 
"The challenge now is to translate this cross-sectorial attention into effective concerted action."
Key topics examined by delegates included ways to improve efforts to dismantle wildlife crime, how to improve enforcement across the EU and how to ensure a strategic and co-ordinated response to the crisis. 
A lack of adequate co-operation between different agencies within the EU to co-ordinate enforcement action was one issue highlighted as in need of attention. EU efforts are also hampered by a lack of adequate resources, and in some instances by low levels of penalties imposed with no deterrent effect. 
The TRAFFIC-managed European Union Trade in Wildlife Information eXchange (EU-TWIX) was widely acknowledged at the conference as an existing mechanism for data gathering and sharing on wildlife trade crime within Europe but its longer-term funding status still needs to be secured.
"It is imperative that all Members States live up to their responsibilities to police the wildlife trade: any point of weakness will be targeted by those determined to circumvent the law," said Stephanie von Meibom, Director of TRAFFIC in Europe. 
A Member of the European Parliament present reiterated the Parliament's recent call for an EU Action Plan against wildlife trafficking. An EU Strategy with an associated Action Plan, like those already in existence to counter drugs and human trafficking, would also be welcomed by TRAFFIC as it would provide a common policy framework to tackle wildlife trafficking at the EU and Member State levels, especially, if accompanied by financial resources to ensure its implementation.
The Commission will now take stock of expert feedback from the meeting and public consultation to enable a thorough review of existing policies and measures to be undertaken.
A recent overview/briefing on wildlife trade in the EU is available.
TRAFFIC is among a coalition of NGOs who have written to Commissioner Janez Potočnik to express their support for strong EU action on wildlife trafficking; a copy of the letter sent.
More information about the event (including links to some of the speeches made there, including the one by Steven Broad).
---