Changing behaviour to reduce consumption of illegal wildlife products in China
Beijing, China, 10th April 2014—Experts from a wide diversity of backgrounds, ranging from businessmen through to government employees and staff from non-governmental organizations (NGOs) met last month in Beijing to devise ways to change consumer's behaviour to reduce the demand for illegal wildlife products. 
---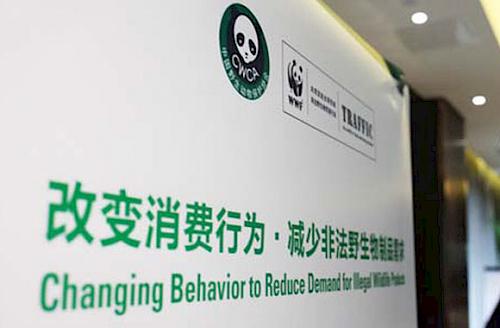 The meeting was jointly organized by TRAFFIC, WWF and CWCA, and was aimed at building upon the momentum generated through last year's joint Global Illegal Wildlife Campaign between TRAFFIC and WWF that helped raise the issue of the seriousness of wildlife crime to a global level and move into a new phase of influencing consumers of such goods to change their consumption behaviour. 
Delegates from CWCA, various NGOs, businesses, E-businesses, institutions participated during the first phase of the meeting, while the latter part involved agencies and organizations whose work is connected to wildlife conservation, including the Department of Wildlife Conservation and Nature Reserve Management, National Forest Police Bureau under the State Forestry Administration (SFA), the Endangered Species Import and Export Management Office (CITES Management Authority), the Anti-smuggling Bureau of China's General Administration of Customs, the Ministry of Agriculture of China Fishery Bureau, the State Administration for Industry and Commerce, the Supreme People's Procuratorate Department of Regulation and Policy, the China Association of Auctioneers, the Chinese Academy of Sciences' Institute of Zoology, the World Federation of Chinese Medicine Societies, the United Nations Environment Programme, the German Embassy in Beijing and GIZ. 
Ideas discussed recognised the various ways in which public behaviour could be changed and a fully integrated approach was recommended that encompassed reducing consumer demand in concert with strengthened efforts to reduce the supply of goods into the market and protect species at source.
Yin Feng, Chief of CWCA, said: "In addition to government efforts to cracking down on illegal wildlife trade, public education is also essential.
"After many years of such education, the majority of the public are aware of the need to protect wildlife although market surveys still reflect strong consumer behaviour among a minority in buying illegal wildlife products. Changing the behaviour of this minority is therefore a critical issue and a focus of our future work."
"There is still demand for illegal wildlife products," said Yannick Kuehl, TRAFFIC's Regional Director for East and South Asia. "In this critical period we have to develop new methods to ensure that endangered species will not become extinct. 
"TRAFFIC is working to help strengthen law enforcement to reduce the supply of illegal wildlife products and in in concert with this is also working to change the consumption behaviour of targeted consumer groups to reduce the demand for illegal wildlife products. This is an ambitious goal that requires joint effort across the international community." 
Meeting delegates identified key reasons why illegal wildlife goods are consumed, such as for corporate gift-giving, as health care tonics and treatments and as monetary investments. To address the drivers of such trade, mutual co-operation across a wide range of diverse sectors would be needed. 
The latest meeting built upon the foundations laid in January 2013, when the concept of changing consumer behaviour to reduce consumption was well-received and has subsequently attracted increasing attention from across the international community. 
Action to achieve behavioural change was identified in a Resolution made at the March 2013 meeting of Parties to the Convention on International Trade in Endangered Species of Wild Fauna and Flora (CITES), while in February this year, the concept was recognized as one of the key elements needed to crack down on illegal wildlife crime in the "London Declaration" issued following a London Conference on Illegal Wildlife Crime convened by the UK Government for senior government representatives worldwide. 
---
About TRAFFIC

TRAFFIC is a leading non-governmental organisation working globally on trade in wild animals and plants in the context of both biodiversity conservation and sustainable development whose mission is to ensure that trade in wild plants and animals is not a threat to the conservation of nature. More information at www.traffic.org
WWF

WWF is an independent conservation organization, with over 30 million supporters and a global network active in over 100 countries. WWF's mission is to stop the degradation of the Earth's natural environment and to build a future in which humans live in harmony with nature, by conserving the world's biological diversity, ensuring that the use of renewable natural resources is sustainable, and promoting the reduction of pollution and wasteful consumption. Visit www.panda.org/news for the latest news and media resources and follow us on Twitter @WWF_media.
About CWCA (China Wildlife Conservation Association)

CWCA is a wildlife conservation organization that has the most extensive representativeness in China. It is devoted to promoting the cause of wildlife conservation in China and to conserving and rescuing rare and endangered species. By the end of 2012, CWCA has developed 774 organization members s at all levels, with more than 0.35 million individual members. (http://www.cwca.org.cn).