EU wildlife trade website updated and available in 22 languages
Brussels, 5th May 2010—www.eu-wildlifetrade.org, the website providing comprehensive information on wildlife trade controls in the European Union (EU) has been updated and expanded by TRAFFIC. 
---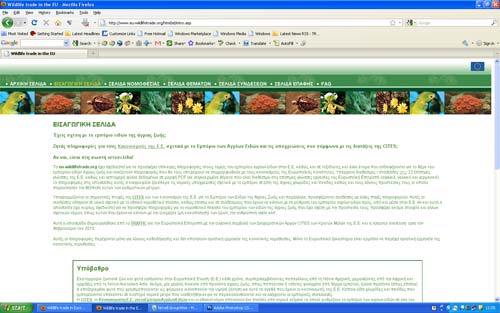 The site provides tailor-made information for traders, consumers and travellers on various aspects of wildlife trade into, from or within the EU. 
The latest version includes updated information on legislation and factsheets in all 22 EU languages. 
Since its launch in 2003, thousands of people world-wide have visited www.eu-wildlifetrade.org to find out about wildlife trade requirements in the EU. 
Millions of live animals and plants are imported into the EU every year. A huge variety of wildlife products, including shoes or bags made of reptile skin, timber products such as furniture and dried plants used in medicines are in high demand by EU consumers. 
This trade is regulated globally by CITES (the Convention on International Trade in Endangered Species of Wild Fauna and Flora) which is implemented in the EU through the EU Wildlife Trade Regulations and national laws.
www.eu-wildlifetrade.org is a comprehensive source of information on the EU Wildlife Trade Regulations, informing people what documents are required if trading in wildlife or bringing home wildlife souvenirs, to help ensure that wildlife trade is conducted legally. 
The website is an initiative of and financed by the European Commission. The site was developed and is managed by TRAFFIC Europe with support from the CITES Management Authorities of all EU Member States.
---
Notes:
Council Regulation (EC) No. 338/97 and Commission Regulation (EC) No. 865/2006 regulate wildlife trade in the EU (http://ec.europa.eu/environment/cites/legislation_en.htm). These regulations fully implement CITES in the 27 EU Member States and even go beyond CITES provisions.
---