Expert consultation on Non-Wood Forest Products trade in SE Europe available
Sarajevo, Bosnia and Herzegovina, 4th May 2010—the outcomes of an expert consultation to discuss the development of the sustainable Non-Wood Forest Products (NWFP) sector in South-Eastern Europe has been made available online. 
---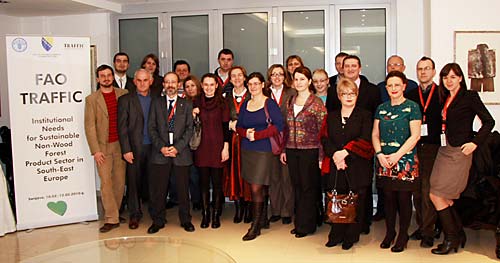 The experts comprised representatives from six South-East European countries plus international organizations, including the United Nations' Food and Agriculture Organization (FAO), IUCN, Netherlands Development Organisation (SNV), TRAFFIC and the United Nations Development Programme (UNDP), who met this February in Sarajevo.
South-East Europe is at the centre of wild-collection of NWFPs in the region and plays an important role in local, regional, and international trade in these products, which range from everything from wild herbs through to mushroom, mosses and lichens. 
Women and the elderly are traditionally employed in wild-collection of NWFPs, providing income and livelihoods for poor rural communities. The products are largely marketed elsewhere in Europe. 
"Clearly there is great potential for the NWFP trade to contribute to sustainable rural development," said Richard Eberlin, a Rural Development Officer with the FAO Regional Office for Europe and Central Asia. 
"But if such trade is to become a 'stepping stone' for lifting people out of poverty, rather than a poverty trap, then appropriate measures need to be put in place." 
The measures include appropriate technical, legal and financial interventions by those involved in and regulating the trade, such as governmental bodies, the private sector, farmers, NGOs and international organizations. 
February's meeting brought together stakeholders to evaluate the capacity needed to bring about sustainable development in the NWFP sector, including an examination of the finances and income-generating opportunities. 
During the three-day consultation, major areas of institutional and technical capacity needs were identified in the six South-East European countries represented at the meeting, which were Albania, Bosnia and Herzegovina, Croatia, TFYR of Macedonia, Montenegro, and Republic of Serbia.
"The six country reports highlighted the scope for NWFP products to play a greater role in meeting the demand of local and international markets. However, the current lack of reliable, consistent data about NWFPs across the region needs to be addressed to ensure the right decisions are taken are based on sound data," said Paul Vantomme, Senior Forestry Officer, with the FAO. 
 
Improvements in infrastructure are also essential to encourage the sustainable collection/trade of NWFP products and allow countries to realize the considerable potential of their resources. Private forestry has significant potential to increase the supply of NWFP products, but the small size and scattered ownership of private forests are barriers to mobilizing this resource. It was also emphasized that ecological aspects of NWFP collection need to be reinforced to ensure sustainable sector development, including collection of relevant ecological data on NWFP resources availability and harvesting quantities, as well as development of appropriate management and monitoring systems.  
Participants encouraged regular exchange of information and ideas on the trade between countries in the region. International organizations involved in the consultation expressed a desire for increased regional co-operation and wider involvement on this issue.
The consultation was conducted jointly by FAO, TRAFFIC and Ministry of Trade and Economic Relations of Bosnia and Herzegovina, and was made possible through the support of the FAO Sub-Regional Office for Central and Eastern Europe (SEUR). 
TRAFFIC's work on NWFPs is through its medicinal and aromatic plant programme, which focuses on the establishment, promotion and support of sustainable procedures in the harvesting and use of wild ingredients, ensuring collection activities are not a threat to the survival of species.  
The meeting report and other detailed information on the expert consultation is available at http://www.fao.org/regional/seur/events/Sarajevo/sarajevo_en.htm
---