Enforcement officers focus on wildlife trade in Lao PDR
Vientiane, Lao PDR, 23rd Jan 2013—Illegal wildlife trade within Lao PDR and across its border with Viet Nam came under focus at a first-ever workshop on wildlife trade for frontline enforcement officers working in border provinces.
---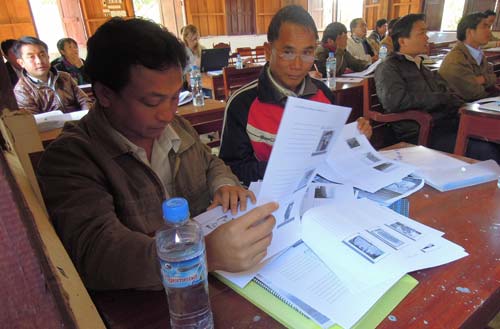 The workshop jointly organised by TRAFFIC and Wildlife Conservation Society- Laos Programme earlier this month saw 59 participants gather to build capacity and tackle the challenge of protecting national parks, strengthening enforcement against illegal wildlife trade within the country and improving enforcement at the country's entry and exit points.
Participants heard that wildlife inspections in Lao PDR in 2011 and 2012 resulted in the confiscation of 1,218 wild animals comprising 39 species, over a tonne of wildlife parts and 287 tonnes of non-timber forest products.
They were also informed of cross border smuggling between Lao PDR and Viet Nam in 2012 with seizures including large shipments of pythons, cobras, softshell turtles and pangolins. Other wildlife smuggled from Lao PDR into Viet Nam included Tiger cubs, water monitor lizards, civets, porcupines and a bear cub.
TRAFFIC trainers presented the global and regional issues surrounding wildlife trade and guided officers through sessions on identifying commonly traded wildlife species and methods often used by smugglers. Each participant will receive a copy of TRAFFIC's 100-page Species Identification Guide.
The participants represented the Department of Natural Resources and Environment, Agriculture and Forestry and the Department of Forest Inspection from Huaphanh, Luangphrabang, Xiengkhuang, Bolikhamxai and Xekong provinces.
Representatives of the CITES Management Authorities of Viet Nam and Lao PDR, Lao Customs, Environmental Police, and rangers of the Nam Et-Phou Louey National Protected Area (NEPL) participated in the workshop funded by US Fish and Wildlife Service, WWF-Netherlands and the US Department of the Interior.
The workshop was held close to the 6,000 square kilometre NEPL, the largest of Lao PDR's 24 protected areas. Home to Tiger, Gaur, Sambar Deer and White-cheeked Gibbon. It is under threat from poachers, with park management reporting to the workshop that their rangers cleared at least 200 snares in just one year. Rangers also found the remains of a Tiger in the park in 2011, with its bones removed.  
"We have been improving, but enforcement is still weak especially at our borders. There is no effective system to monitor and enforce, therefore we were honoured to host this Workshop," said Deputy District Governor of Viengthong, Khamphai Phommisone.
"This is the first workshop dedicated to wildlife trade and CITES. We hope to learn new ways of protecting the species we have and ultimately improving the situation for wildlife in the National Protected Areas."
---