Slow lorises the focus of wildlife trafficking meeting
Sukabumi, Indonesia, 25th January 2013—more than 50 delegates from government agencies, academia, non-government organizations and rescue centres met earlier this month in Sukabumi to take a fresh look at the challenges in tackling wildlife trafficking in South-East Asia.
---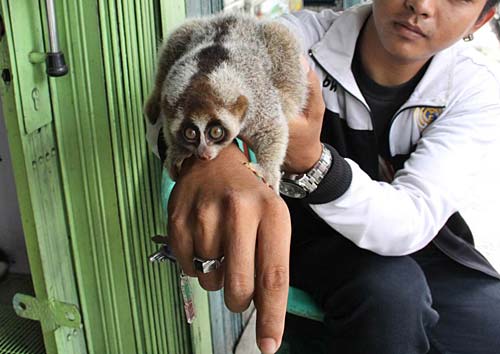 The meeting in the Cikananga wildlife rescue centre on Java focused on the illegal trade in Indonesia's lesser known nocturnal species, in particular slow lorises. 
Slow lorises are found throughout Asia, ranging from India and China south to Indonesia and the Philippines. Indonesia is home to six of the eight species, including the recently described Kayan Slow Loris. 
Although protected in 13 range States and banned from commercial international trade through CITES (the Convention on International Trade in Endangered Species of Wild Fauna and Flora), slow lorises are threatened by habitat destruction and increasingly by the illegal pet trade—stimulated in part by their regular appearance in online videos. 
Participants learned about the scale of the wildlife trade in Indonesia, sparking frank discussions about the challenges faced by Indonesian authorities when confronted with large scale trade in protected species. Participants viewed many of the confiscated animals in the rescue centre and afterwards carried out a survey of the animal markets in Jakarta, finding no fewer than 31 slow lorises illegally offered for sale.
Dr Chris R. Shepherd, Deputy Regional Director of TRAFIC in South-East Asia said: "Indonesia is home to the greatest number of threatened mammal species in the world, many of them at risk because of illegal and/or unsustainable trade."
"It is essential that laws protecting wildlife in Indonesia are put into action, and the activities of illegal traders in the markets of Jakarta and beyond closed down. Seizing animals without prosecuting the offending traders does not serve as a deterrent—it merely results in rescue centres becoming over-burdened, while the traders look elsewhere to replenish their stock." 
Workshop participants agreed on the need for a slow loris conservation action strategy for South-East Asia, combining improved enforcement efforts with raising awareness amongst purchasers to reduce the demand for keeping wild animals as pets.
According to Anna Nekaris, Professor in primate conservation at Oxford Brookes University: "It was inspiring to see participants from a variety of countries and backgrounds united in their desire to tackle the illegal trade in slow lorises–a group of species that until recently was considered rather insignificant in the conservation world."
---