Eleven live otters found in airport luggage
Bangkok, Thailand, 22nd January 2013—Bangkok's Suvarnabhumi International Airport has seen countless traffickers attempt to smuggle a myriad wild animals out in luggage, but never otters—until yesterday.
---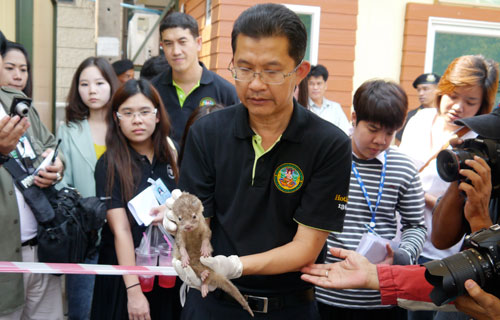 Officers at the airport's Wildlife Checkpoint and the Royal Thai Customs discovered 11 live otters when they scanned a bag that had been left at the oversized luggage area of the airport.
As the bag bore no tags and no one claimed it, the officers opened the luggage to find six Smooth Coated Otters and five Oriental Small Clawed Otters inside.
The otters, which look to be juveniles, will undergo health checks before being handed over to the Bang-Pra Breeding Center in Chonburi for care.
The case is being investigated under Section 27 of Customs Law B.E.2482, Section 16-17 of Customs Law B.E.2469 and Section 23 of Customs Law 2482. The Wild Animal Reservation and Protection Act, B.E 2535 and Animal Epidemics Act, B.E 2499 also apply in this case, officials said in a press release issued to media this afternoon.
Otters and some species of wild cats are at serious risk in South-East Asia, experts said in 2009 after analysing thousands of camera-trap records that helped map the regional distribution of many small carnivore species. Some, like otters, have apparently disappeared from parts of their former range.
The experts, including members of the IUCN-SSC Cat Specialist, Otter Specialist and Small Carnivore Specialist Groups had pushed for more research on small carnivores like otters that play an important ecological role in tropical forests but receive relatively little conservation attention. They also called on Thailand to develop a national action plan to ensure greater protection for small carnivores.
"This find is a surprise and a worrying one. Otter skins have been interdicted in trade elsewhere in Asia, but live otters are a new development as far as we know.  Yet another species we know little about is in danger from wildlife traffickers," said TRAFFIC's Regional Director in South-East Asia, Dr William Schaedla.
"It is great to see that frontline officers in Thailand are maintaining vigilance. However there must be more intelligence led investigations that will arrest the problem at source," he added.
---