E-commerce, logistics firms commit to protect endangered species
Beijing, China, 2nd September2013—Thirteen e-commerce and logistics companies met last month in Beijing to learn about the high priority being given to addressing illegal trade in wildlife by law enforcement agencies and what expectations this places on the companies for carrying out their commitment to protect endangered species.
---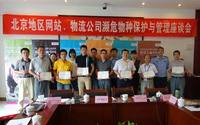 The companies were mainly Beijing-based and included major logistics companies, from the State-run China EMS to large private ones such as Debang Express, to e-commerce and antique collectors websites such as ganji.com. A representative from Alibaba, the parent company of taobao.com, also attended. 
"E-commerce and logistics companies are two key links in wildlife trade chains," said Xu Qingyuan, Co-ordinator of Beijing Municipal Inter-agency CITES Enforcement Coordination Group (PICE-CG). "Bringing them together is crucial to crack down on any illegal activity along the chains." 
CITES is the Convention on International Trade in Endangered Species of Wild Fauna and Flora. The PICE-CG comprises Beijing's CITES Management Authority, CITES Scientific Authority, Customs, Public Security Bureau, Industry & Commerce Bureau, Agriculture and Forestry authorities. 
The companies were briefed by enforcement agencies, including the CITES Management Authority, the National Forest Police and members of Beijing PICE-CG, on topics ranging from information about CITES and levels of international and domestic illegal wildlife trade, including online trade and transportation of wildlife products, plus relevant laws and regulations. 
TRAFFIC gave a presentation on the status of illegal online wildlife trade in Beijing, based upon its regular monitoring of the situation. 
"Beijing's online trade in endangered species products accounts for more than 40 percent of all such online trade in China," said Xu Ling, Senior Programme Officer with TRAFFIC. "Escalating co-ordinated enforcement action on the important online battlefield could have a positive impact for the whole country in the fight against wildlife trafficking," said Xu. 
Products illegally traded online include those made from ivory, rhino horn, Tiger bone, Hawksbill Turtle and Black Coral. 
Nationwide, there are 29 key e-commerce websites monitored by TRAFFIC. The results are shared monthly with each site individually. Also shared is a continually updated key search word pool, helping websites to locate illegal trade information which is otherwise not easily identified, such as replacing the word "ivory" with other terms.
"We have mechanisms to filter and delete illegal trade information automatically and manually," said Ya Nan based in the information security department of Alibaba. "However, when criminals become more devious and use vague terms to replace key search words, it makes it harder for us to filter the posts effectively. Therefore, we are very willing to collaborate with government agencies and NGOs to make this process more efficient."
At the end of the workshop, the companies agreed on a commitment to stand firm against illegal wildlife trade through conducting relevant actions in their businesses and proactively reporting anything suspicious to law enforcement agencies. All the workshop attendees were awarded certificates jointly issued by Beijing PICE-CG and TRAFFIC in recognition of their commitment.
This workshop is the latest in a series that began in June 2012 during TRAFFIC and WWF's joint global Illegal Wildlife Trade Campaign. Since then there has been a clear decrease in illegal online wildlife trade advertisements, particularly after 15 leading Chinese e-commerce sellers signed a declaration stating their zero-tolerance policy towards illegal wildlife trading. A further workshop will take place soon in Shanghai.
"We are delighted to see further involvement of China's e-commerce and logistic businesses in our work to combat illegal wildlife trade," said Fan Zhiyong, WWF China species programme director. 
According to the Ministry of Public Security, websites in China are obliged to review their published information. The ministry is planning to strengthen its efforts to monitor the online trade in endangered species and their products and companies will be fined if they are found to be involved in illegal trading of wildlife, and staff could face prosecution.
More on TRAFFIC and WWF's work to combat illegal online wildlife trade in China. 
---